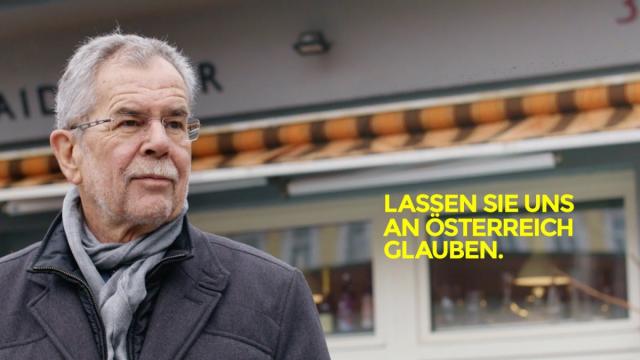 Alexander Van der Bellen, an independent candidate backed by the Austrian Green Party, on Sunday narrowly defeated far-right Freedom Party candidate Norbert Hofer to become Austria's new president, quelling fears that an extremist government might seize power in the heart of Europe.
Hofer won the first round of voting last month and, until postal votes were counted in the second round, he still maintained the lead at the ballot box. He was beaten by just 31,000 votes out of more than 4.7 million cast nationwide. If elected, he would have become the first far-right head of state in the European Union – and the first elected in Europe since the Second World War. Van der Bellen replaces moderate president Heinz Fischer, who served two terms.
"Nobody was expecting the results to be so close," Ulrike Guérot, professor of European Policy and Study of Democracy at Danube University in Krems, Austria, told Occupy.com.
"Many people, myself included, were expecting Hofer would win. Austria is clearly very split, much as I believe the UK will be over the Brexit vote. There were more than a million postal votes, a very high number. These postal voters were, in my opinion, the more liberal, progressive, educated people, fearful that Hofer would win and intent on making sure their vote was counted."
Explanations are mixed as to why Austrian voters strayed from electing a middle-ground candidate – as they did for the past two terms – and instead favored a showdown between two radical alternatives. "Just like in the Netherlands, Germany, and many other countries, we've always had the same main parties," Guérot said, but this time, "there was real unrest with the status quo. Unless the centre-left and centre-right parties can deliver, eventually voters often radicalize at the fringes."
Why the leap so far to the right? The refugee crisis gripping Europe is the single clearest answer. "But don't forget that there has always been something of a latent right-wing ideology in Austria," Guérot added, citing the successful rise of rightest politicians like President Waldheim and Jörg Haider in recent years. "It's less of a violent ideology than in Germany – Austrians don't tend to burn refugee homes down – but it's not a huge surprise that it's come to this when we add the refugee crisis to the general culture."
Alexandra Siegl, an Austrian political analyst who took part in conducting voter surveys before election day, saw the candidates polling neck and neck. "We expected a close run," she told Occupy.com, and agreed that the refugee crisis was the big issue of the election.
"A lot of refugees came to Austria last year and there was a big change in public opinion towards them. In the beginning people were quite friendly and everybody wanted to help them. But over time, attitudes shifted. I think a big turning point was what happened in Cologne on New Year's Eve," she said, referring to the night last Dec. 31 when hundreds of incidents of sexual assault were reported against mostly refugees and asylum seekers. "It was discussed very widely in the media. The issue of refugees really polarized Austrian society after that."
But there were other catalysts to the political shift as well.
"There has been a lot of disaffection with the Austrian government. We have a particularly high unemployment rate at the moment. Politics in Austria has been governed by two main parties for a long time, and lately they have been fighting and blocking one another and unable to make decisions," Siegl added.
Lewis Baston, a UK political analyst who closely followed the Austrian contest, insisted the results were an optimistic sign – not only for Austria, but for Europe more broadly. "Austria's presidential election showed that right wing populism is a rising force, but that it can still be beaten," he said. "The refugee crisis, wider cultural anxieties and economic factors have created a ready audience for the right. Hungary and Poland have both elected rightist governments that have shown little respect for constitutional law, and anti-immigrant parties in France and the Netherlands are also doing well."
In the end, he agreed, it was the public's reluctance to back either of the country's tired, ineffective political parties that pushed the elections to the extreme. "Austria has usually been run by a very cosy centre coalition of the two big parties – both of them moderate, essentially dividing up the state between them," he explained.
But, "their power has steadily weakened since the 1980s and they were humiliated by the outcome of the first round of the presidential election when their candidates were eliminated, and the surviving anti-rightist candidate was an independent Green. Austria has a particularly severe case of the dislike of establishment politics found in many countries – including the UK and the U.S."
Had things worked out differently and Hofer had won, said Guérot of Danube University, "I think the symbolism of it would have been huge. It would have added to the example of Poland and Hungary, who already have right-wing governments, and might have inspired more European countries to elect right-wing leaders. Van der Bellen is green, open and cosmopolitan: he is a last chance for Austria."
As the dust cleared on Monday, Van der Bellen and his supporters finally had a chance to celebrate the win. But with such a close margin of victory, Austria's new leader can expect rocky times ahead between now and parliamentary elections in 2018.
– See more at: http://www.occupy.com/article/green-candidates-narrow-presidential-victory-remakes-austrian-politics?utm_source=Website+%27Join+Us%27&utm_campaign=55b9183d80-RSS_EMAIL_CAMPAIGN&utm_medium=email&utm_term=0_77fe4a462d-55b9183d80-73720709#sthash.kWX8vOIy.dpuf