From Extinction Rebellion
9 – 23 AUG | Worldwide (rebellion.earth)
Rebels staged actions outside Brazilian embassies in over a dozen countries last week to demand an end to the government-sanctioned destruction of the Amazon rainforest and violence against its indigenous people.
The violence stems from a surge in logging, mining, farming, and other commercial exploitation of the region – a direct result of the new Brazilian government, which sees environmental conservation as merely an obstacle to economic growth, and has tacitly approved an era of rampant extractivism, ecocide, and indigenous displacement.
The many rebel protests were timed to coincide with both International Indigenous Peoples Day and the first ever Indigenous Women's March in Brazil's capital. More of a festival than a march, the event involved thousands of women protesting over five days and culminated in hundreds of women occupying a health ministry building to demand more from a federal government set to abandon indigenous healthcare programs and leave them to underfunded and underskilled local authorities.
Extinction Rebellion Mzansi (South Africa) coordinated two major actions in solidarity with the Indigenous Women's March. Rebels in Cape Town swarmed a major road and staged a die-in outside the Brazilian Consulate to raise awareness of the region's issues. A rebel delegation in Pretoria visited the Brazilian Embassy to deliver an open letter demanding an end to Amazon deforestation and the forced removal of its people.
In the UK, an affinity group splattered the Brazilian Embassy in London with red paint to symbolise the blood of the hundreds killed since the October 2018 election of the country's current far-right regime. Rebels blockaded the building's entrances with the help of superglue and bike locks, and covered the walls and windows with messages of dissent. Rebel reinforcements arrived from a march for murdered environmentalists that also targeted the embassy.
One week later, hundreds of rebels re-appeared outside the Embassy, this time blocking both lanes of traffic, and listening to the testimony of indigenous speakers including representatives from the Huni Kuin and Kaxinawa.
German rebels performed translated speeches by indigenous women and staged a photo installation outside the Brazilian Embassy in Berlin.
Swiss rebels of various ages carried a 'bloodstained' coffin to the Brazillian Embassy in Bern and held up photos of murdered environmental defenders and deforested regions. In Lisbon, Portuguese rebels doused themselves in fake blood and staged a die-in on tram tracks outside their Brazilian Embassy.
In the town of Bakau in Gambia, rebels staged a 'chalkivist' die-in to demand an end to Amazon industrialisation and a boycott of Cargill, America's biggest private company, which has razed a staggering amount of the region's rainforest to grow soya for livestock feed.
Rebels in Mumbai, India, joined forces with other campaigners to march in solidarity with both the Indigenous Women of Brazil and the more local Adivasi tribes of the Aarey Forest.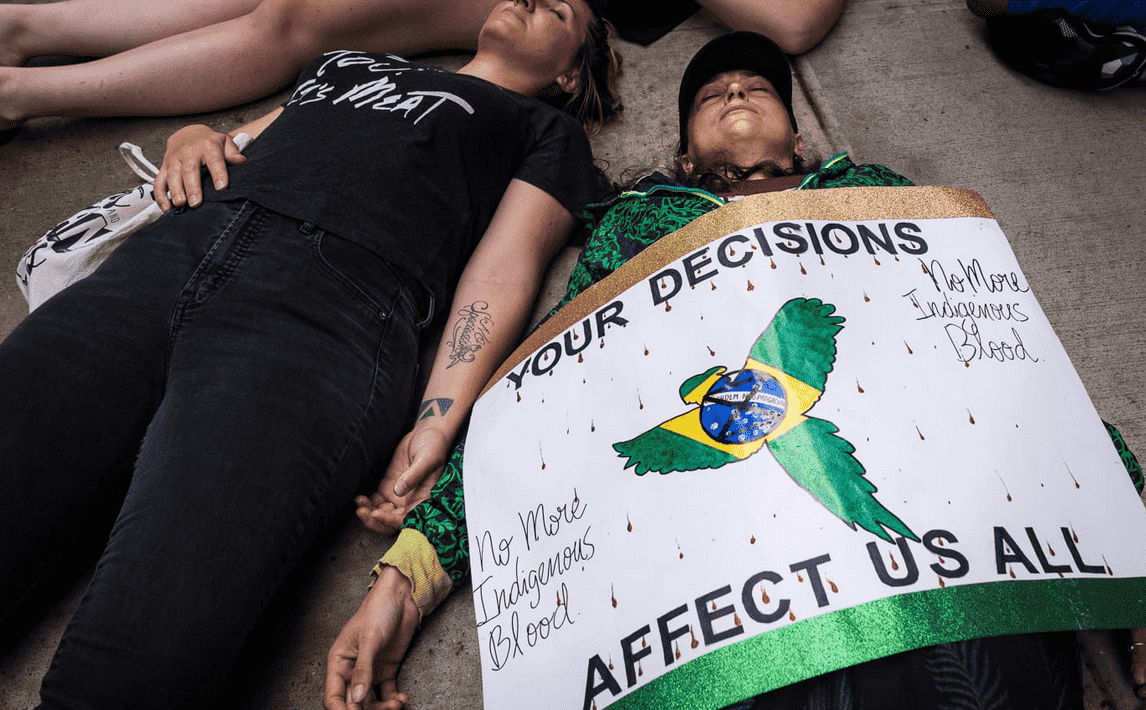 Related actions united under the banner 'Indigenous blood – Not one more drop' were carried out by XR chapters in America, Argentina, Australia, Austria, Chile, Colombia, France, and Spain. Apologies to all rebels around the world whose vital contributions could not be covered here in more detail.
More details on the frankly shocking behaviour of the Brazilian government towards the region and its people are available here.
The Amazon rainforest plays a pivotal role in decarbonising our planet, and its indigenous people have supported and safeguarded it for generations. Rebels must continue to denounce its destruction by the state and show solidarity with the people on the front line of this battle – a battle that will ultimately affect us all.
Further XR protests and product boycotts are being planned worldwide should our collective call to the Brazilian government not be heeded.