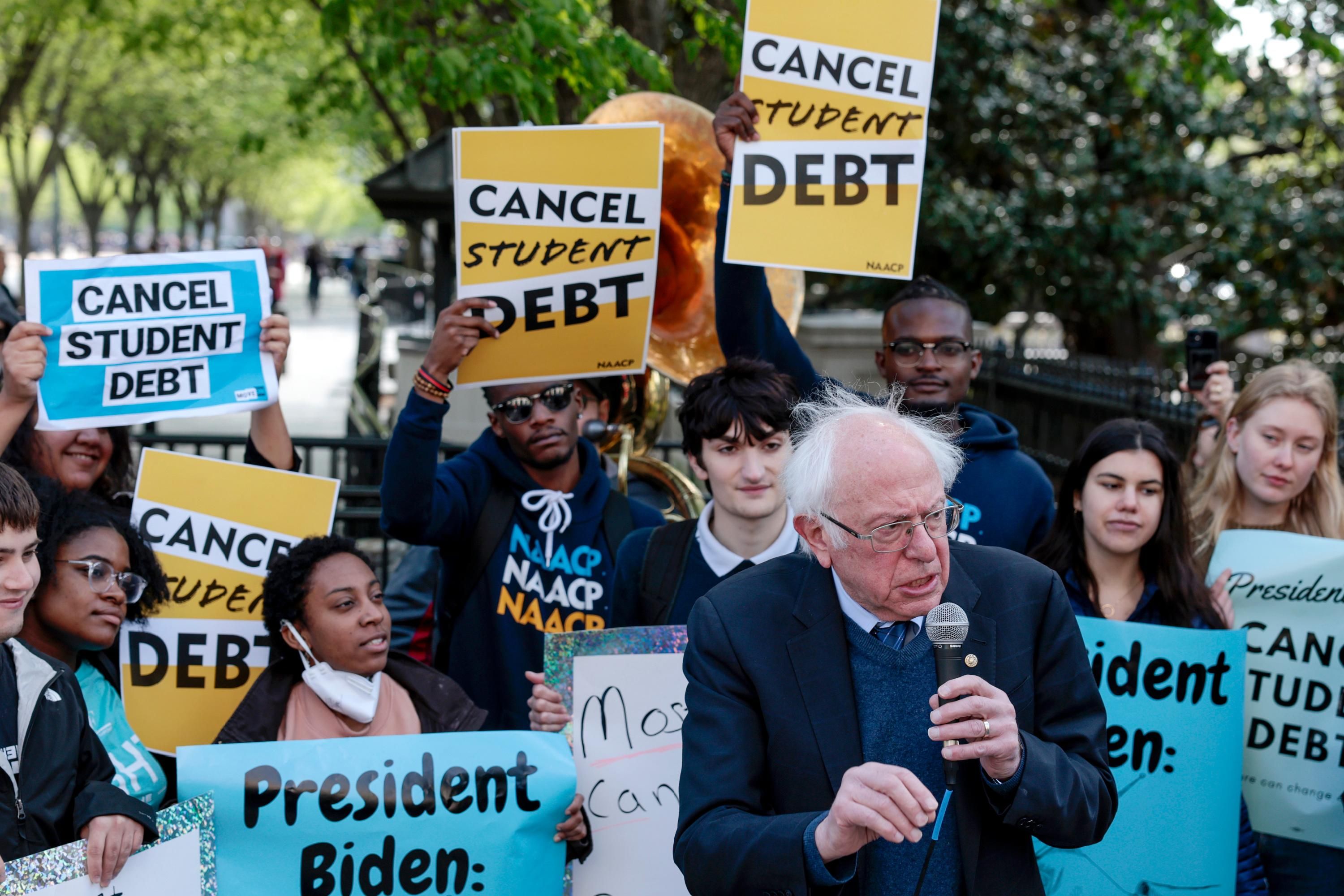 Sen. Bernie Sanders (I-Vt.) speaks at a student loan forgiveness rally near the White House on April 27, 2022 in Washington, D.C. (Photo: Anna Moneymaker/Getty Images)
"Student loan debt is already means-tested by design: the rich have no student debt," said the Debt Collective. "We need to cancel all student loan debt."
JAKE JOHNSON April 29, 2022 (CommonDreams.org)
Progressive lawmakers, advocates, and deeply indebted Americans ramped up their calls Friday for President Joe Biden to cancel all outstanding federal student loan debt amid reports that his administration is considering income limits and other restrictions on eligibility for any potential relief.
"If we can bail out banks that destroyed the economy because of their illegal activity, we can cancel all student debt."
The Wall Street Journal reported Thursday that Biden's advisers are weighing a number of means tests including "an income threshold" and a provision "limiting forgiveness to undergraduate loans" with the stated goal of ensuring that the "bulk of the benefits go to lower-to-middle-income borrowers."
Speaking to reporters on Thursday, Biden himself said he is "not considering $50,000 debt reduction"—a signal that he remains unwilling to go beyond his initial promise of $10,000 in forgiveness per borrower.
But campaigners, led by the Debt Collective, argued that limiting relief to $10,000 and adding means testing to the equation would unnecessarily deny benefits to millions of people across the United States who are being crushed by student debt. Borrowers in the U.S. currently hold over $1.8 trillion combined in student debt, which has increased by 91% over the past decade.
"For millions of borrowers, many of whom owe six figures, 10k or 50k of relief barely provides a dent in the amount of debt they hold," the Debt Collective, the nation's first debtors' union, writes in a new petition. "For many, it won't touch a cent of their monthly payments. If Biden were to cancel 10K for all 45 million borrowers—we'd still have a massive student debt crisis on our hands."
"Student loan debt is already means-tested by design: the rich have no student debt," the petition continues. "And the government's ongoing issues with their failing relief programs show those don't work, either. We need to cancel all student loan debt."
The Biden administration has extended a moratorium on student debt repayments and interest four times, with the latest set to expire on August 31—just ahead of the critical November midterms. The moratorium has been in place since the beginning of the coronavirus pandemic.
While progressives have welcomed the extensions—particularly given that half of all U.S. student loan borrowers say they would not currently be able to afford a single monthly payment—they've argued that merely delaying the moratorium's eventual end without canceling any debt does nothing to provide lasting relief.
"Think big or go home. Cancel all of it."
Earlier this week, Biden told the Congressional Hispanic Caucus in a private meeting that he is considering unilaterally forgiving at least some student loan debt—comments that advocates cautiously praised while vowing to keep up the pressure.
But the White House quickly made clear that Biden is still not yet on board with total student debt cancellation or even $50,000 in forgiveness via executive action, a step top Democrats including Sen. Elizabeth Warren (D-Mass.) and Senate Majority Leader Chuck Schumer (D-N.Y.) have urged him to take.
During a briefing on Thursday, Press Secretary Jen Psaki confirmed that Biden is examining "how to provide additional relief to many Americans who… still have student loans."
Asked whether any such relief would be means-tested, Psaki replied, "That's certainly something he would be looking at."
But the specific means tests that Biden is reportedly considering would exclude many "nurses, teachers, public defenders, social workers, and anyone who went to grad school," Jane Fox, a public defender with the Legal Aid Society, noted, referring specifically to the Journal's report on the proposed undergrad-only restriction.
"Oh and then also throw everyone who went to a college that cost more than $10,000 under the bus," Fox added.
Warren Gunnels, staff director for Sen. Bernie Sanders (I-Vt.), argued on Twitter late Thursday that it doesn't make political sense for Biden to cancel a small portion of student loan debt, as "Republicans will attack forgiving $10,000 in student debt as voraciously as if Biden canceled all student debt while demoralizing tens of millions who will still be drowning in it."
On Wednesday, a group of Republican senators introduced legislation that would bar the president from canceling student loan debt through executive action—inadvertently admitting that Biden has the authority to do so.
"Think big or go home," Gunnels wrote. "Cancel all of it."
Rep. Pramila Jayapal (D-Wash.), chair of the Congressional Progressive Caucus, echoed Gunnels on Friday, writing, "One person holds the power to cancel student debt for 45 million Americans."
"Get it done, President Biden," the Washington Democrat added.
Jayapal was among a number of progressive lawmakers who attended a rally near the White House earlier this week in support of total student debt cancellation.
In his remarks at the demonstration, Sanders—the chair of the Senate Budget Committee—characterized the student debt issue as "a fight over national priorities."
"If we can bail out banks that destroyed the economy because of their illegal activity," Sanders said, "we can cancel all student debt."