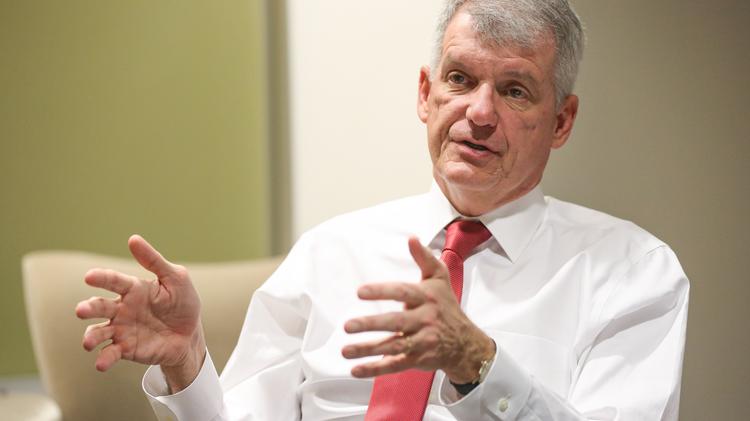 By Mark Calvey  – Senior Reporter, San Francisco Business Times
Mar 13, 2019
Wells Fargo is heading back to Texas, telling shareholders Wednesday that this year's annual meeting will be at the Dallas-Fort Worth airport on April 23.
The bank's shareholder meeting, which will take place at 10 a.m. Central time at the Grand Hyatt DFW, will likely draw protesters and other critics of the bank, as has occurred in recent years. That's spurred Wells to keep the annual meeting's location secret until filing its proxy, sometimes choosing remote locations or venues that make it hard for large crowds of protesters to gather. The bank's last annual meeting in San Francisco in 2012 turned into a two-day event triggering road closures and drawing thousands of protesters that required some attendees to step over a row of protesters chained together after passing through a police line. Presumably, that circus-like atmosphere won't be allowed at the Dallas airport.
On Wednesday, Wells was eager to tout its Texas presence in deciding to bring the annual meeting to the Lone Star State for a second time in recent years. The bank's annual meeting was held in San Antonio in 2014.
"We consider several criteria including transportation, availability of venue and Wells Fargo operations when planning corporate meetings," said Wells Fargo (NYSE: WFC) spokesman Ruben Pulido. "We believe there is a benefit to holding our annual meeting in different locations to allow for the broader participation of our stockholders in those areas.
"We chose the Dallas-Fort Worth area, in part, because of our large base of operations in the state," Pulido said. "Texas is one of our largest regions in the U.S. as it relates to retail branches, and we are the third-largest bank in the state."
Wells said it has 5,800 employees as well as 175 locations and operations centers in the Dallas-Fort Worth area, including several statewide leaders.
In addition to disclosing the annual meeting location, Wells also revealed in its proxy statement that CEO Tim Sloan got a 5 percent pay raise in 2018, earning $18.4 million in total compensation. He received $2.4 million in salary, $14 million in stock awards and $2 million in incentive awards, according to the bank's proxy statement. In 2017, he earned $17.5 million, a 36 percent pay increase over 2016, the year in which he was named CEO. He took the reins after a scandal involving the opening of millions of accounts not authorized by customers came to light and led to the ouster of his predecessor John Stumpf.
Sloan was grilled at a congressional hearing this week over the bank's progress in recovering from a series of scandals under his leadership.
Wells Fargo saw its shares drop 25 percent in 2018, significantly underperforming its rivals and the Standard & Poor's 500.