When:
August 10, 2019 @ 4:30 pm – 6:00 pm
America/Los Angeles Timezone
2019-08-10T16:30:00-07:00
2019-08-10T18:00:00-07:00
Where:
Omni Commons
4799 Shattuck Ave. Oakland CA
Economics Book Group: "Banking on the People." Hosted by Strike Debt Bay Area
WHEN:
August 10, 2019 @ 4:30 pm – 6:00 pm
WHERE:
Omni Commons
4799 Shattuck Ave.
Oakland
CA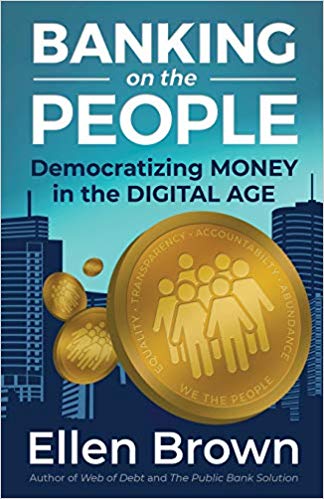 Beginning on August 10th, the Strike Debt Bay Area Economics Book Group will discuss Banking on the People: Democratizing Money in the Digital Age. We will be tackling the introduction and first chapter, available through the 'Look Inside' feature on Amazon, for the August 10th meeting.
All are welcome!
The Economics Book Group began with Doughnut Economics and continued with Take Back the Economy.  We read a chapter or two every month.
"Today most of our money is created, not by governments, but by banks when they make loans. This book takes the reader step by step through the sausage factory of modern money creation, explores improvements made possible by advances in digital technology, and proposes upgrades that could transform our outmoded nineteenth century system into one that is democratic, sustainable, and serves the needs of the twenty-first century."
"In Banking on the People, attorney Ellen Brown provides a much-needed roadmap for reforming monetary and credit systems and the central banks now strangling our common human future. More lucidly that any other expert I know, she shows how we can break the grip of predatory financialization now extracting value from real peoples' productive activities all over the world. Her in-depth research and systemic overview of the global and local politics of money-creation and credit allocation include all the viable proposals of global experts and reformers. She reviews many of these reforms: from financial transaction taxes, to a universal basic income to provide purchasing power for the cornucopia of goods and services now produced, to expanding the public banks she so ably promotes via the Public Banking Institute, to returning the Fed and all banks to serving the public utility functions that economies require. This book is a must read for citizens in all societies who see the promising future as we seek to widen democracies and transform to a cleaner, greener, shared prosperity, based on the renewable abundance of free daily energy from our sun." – Hazel Henderson, CEO of Ethical Markets Media and author of Mapping the Global Transition to the Solar Age and other books.