Sex Worker Justice Now: A March For Sex Worker Rights.
June 2, 2018 @ 12:00 pm – 4:00 pm
WHERE:
Oscar Grant Plaza
14th St & Broadway
Oakland, CA 94612
USA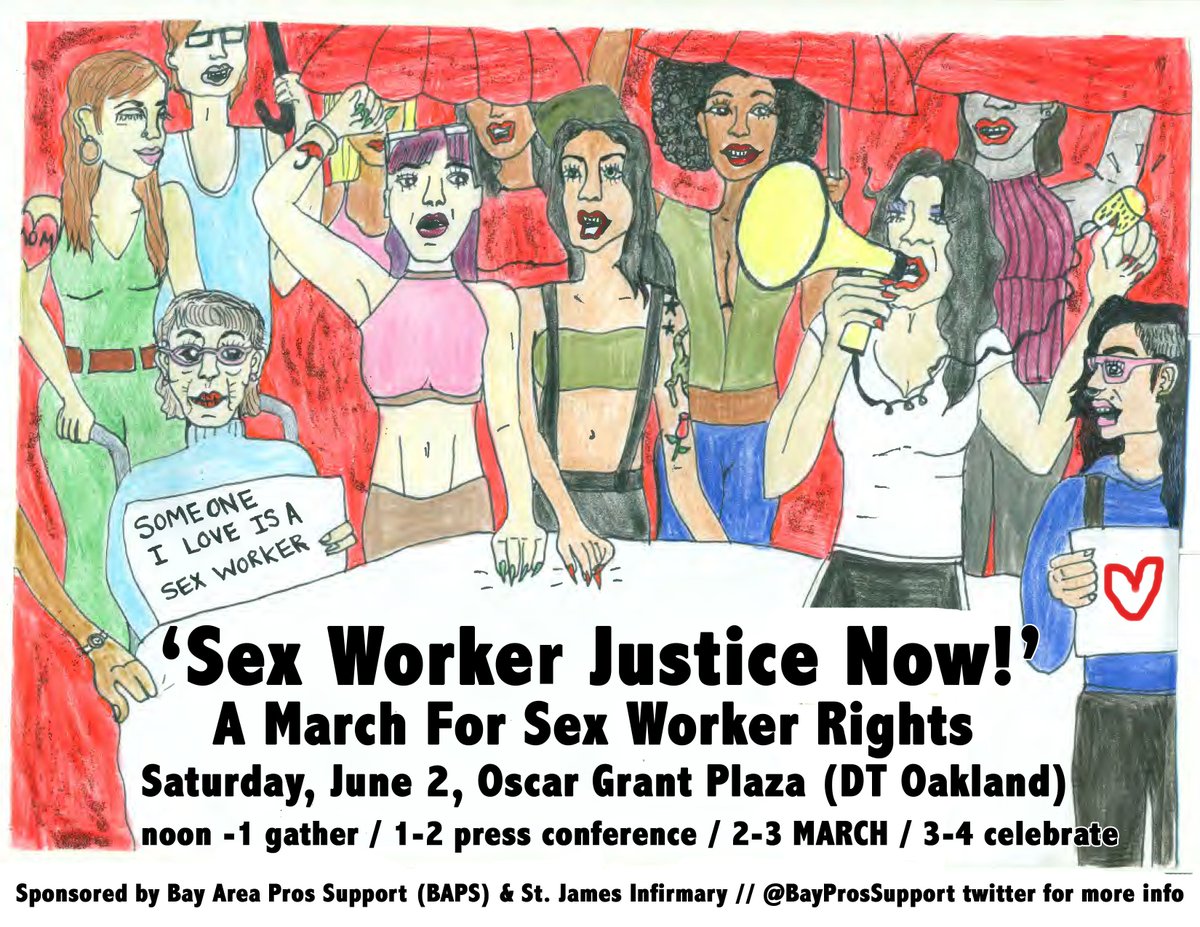 On Saturday, June 2, SWers and our allies will be standing up for justice all over the country. Join us at Oscar Grant Plaza in Downtown Oakland, CA to make the voices & needs of our Bay Area communities loud & visible: Sex Worker Justice Now! (Allies wanted & welcome)
We are protesting, rallying & marching with the following goals in mind:
1/ To make more Bay Area residents & local media aware of the systematic violence against sex workers:
• Repercussions of FOSTA/SESTA legislation • Police violence • Anti-trafficking legislation that continuously conflates sex work & "sex trafficking" • How criminalization damages our communities •
2/ Sex worker justice is inherently tied to the justice of transgender, BIPOC, LGBTQ, femme & GNC, undocumented, poor/low-income, drug using communities
3/ Elevate specific SWer community voices
4/ Be visible & celebrate: come together & show each other some serious love during this tough political time
5/ Celebrate the St. James Infirmary's 19th B-Day!
SCHEDULE OF EVENTS:
noon-1: Gather at Oscar Grant Plaza
1-2: Community Speakers
2-3: March
3-4: Celebrate
*More info about Speakers & the March coming soon*
WHAT YOU NEED TO DO:
• Invite friends an allies: we have power in numbers
• Wear red
• Bring Signs (sign making parties & lists of sign ideas coming soon!)
* Our goal & expectations are that this will be a peaceful & positive gathering for SWer justice. That being said, we are aware that undocumented/on parole/BIPOC/Swers/etc are at a higher risk of police involvement, harassment & violence. We are working on creating safer spaces & systems within the rally and will have more information about this coming soon. Standing up for justice is important, but please prioritize your safety.
VOLUNTEERS NEEDED
• We are looking for folks that have experience with protests to help us lead our crowd.
Currently seeking:
-march leaders
-chant leaders
• Do you have a cool & affordable food truck or ice cream cart? We want to keep our people with snacks, lemonade & popsicles in hand 🙂
DONATIONS NEEDED
• We are wanting to provide the St. James Infirmary Clinic with a lovely B-day bash – seeking cake & red balloon donations
*please msg here or email maxineholloway@protonmail.com or arabelleraphael@protonmail.com to help out*
This event is sponsored by Bay Area Pros Support (Baps)twitter.com/BayProsSupport
& The St. James Infirmary Clinic stjamesinfirmary.org/
Flyer Artwork by The Rambling Hooker instagram.com/ramblinghooker/