By Bridget Read
November 18, 2020 (thecut.com)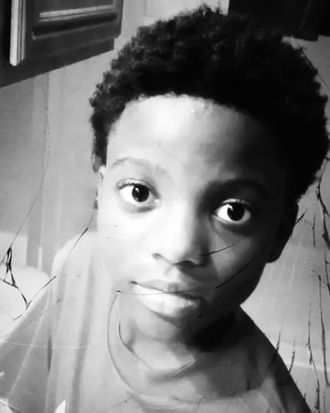 Photo: JusticeforQuawan/Twitter
Quawan "Bobby" Charles, a quiet 15-year-old who loved the outdoors and his dog, "My Baby," went missing in rural Louisiana on October 30. His body was discovered days later in a sugarcane field, 20 miles from his home; the sheriff's department told his family that the boy had drowned.
Charles's family calls the claim "bogus," and says that photos show Quawan's face was horribly disfigured when he was found. They believe his death could have been racially motivated, and that law enforcement failed to act in the hours after they reported their son missing. Two weeks after Quawan went missing, the Iberia Parish Sheriff's Office released a statement saying that they are investigating "suspicious circumstances," and Quawan's parents are still looking for answers. "We believe that if he had been of a different color that this will be taken a lot more seriously," the family's attorney, Ronald Haley, told ABC News. "We [would] not be talking today about 13 days have gone by, with no leads, 13 days have gone by with no answer, 13 days have gone by without [the] official cause of death … This family deserves that Bobby will be laid to rest."
Quawan's father says police have visited a friend of Quawan's and his mother, both white, who were allegedly the last people to see him before he died. But the sheriff's has not commented on whether they are communicating with the pair; no suspects have been named in the case, and it has not been designated a homicide.
Here's everything we know about the death of Quawan "Bobby" Charles:
Quawan went missing on October 30.
Quawan's parents reported his disappearance from his father's home in Baldwin, Louisiana, where he had recently moved, on October 30. He had just started a new school. Quawan's father, Kenneth Jacko, says that part of the reason why he was concerned about Quawan's whereabouts was that he had left his beloved dog, who he had named "My Baby," behind. Quawan's family attorney says that the Baldwin Police Department took a report, but "gave no indication over the next few days that they were searching for the teen or actively investigating his disappearance," per the Washington Post. "Instead, they suggested Quawan might have gone to a football game and asked if the boy had a troubled past, he said."
His family says Quawan was with a friend, 17-year-old Gavin Irvin, and Irwin's mother, Janet, in neighboring Iberia Parish before he died. Jacko told the Post that they learned through a third party that the Irvins picked Quawan up the day he went missing at around 3 p.m., while Jacko was at the store. The Post reports that "Quawan's father said neither he nor Quawan's mother knew the Irvins, who are white, and had not given them permission to take Quawan."
On November 17, Baldwin police released surveillance footage they say depicts Quawan getting picked up by a car on October 30. In the video, a figure, said to be Quawan, sits by the side of the road outside a home before getting up to run toward a car that pulls into the driveway. Two individuals appear to leave the car; eventually, three people get back in and drive off. According to Assistant Chief Sam Wise, police believe that, before reentering the car, Quawan and the two individuals, presumed to be the Irvins, entered the backyard of his father's home to play with Quawan's dog. Gavin Irvin had given Quawan the dog, according to his father. "There was no signs of a kidnapping or abduction at that time," Wise said of the video's contents.
Quawan's body was discovered on November 3.
Jacko says that the family, accompanied by police, visited the Irvins on November 3, after Quawan had been missing for four days. Gavin Irvin confirmed that he and Quawan had been together on October 30 but said that Quawan had left later in the day. "[Gavin] said Quawan got up and said he was leaving. [Gavin] asked about where Quawan was going, and after that, he disappeared," Jacko told the Post.
Iberia Parish police found Quawan's body in a sugarcane field later that day, in the small community of Loreauville not far from the Irvin's home. The sheriff's office told the family that water was found in Quawan's lungs, and he had drowned, but the family says photos of Quawan's body show that his face was incredibly mangled. Celina Charles, a cousin serving as a family spokeswoman, said that Quawan's mother, Roxanne Nelson, ran from the viewing room when she saw his body. The Post reports that, in a photo of Quawan, "the teen appears so disfigured that his teeth are visible outside of his mouth." Charles told ABC that Quawan "looks like he'd been tortured." Nelson has since shared photos of his body online to call attention to Quawan's death and to pressure law enforcement to act.
No one is officially being investigated yet, but the police are investigating his death "as a homicide."
Law-enforcement officials have now said they are investigating Quawan's death "as a homicide," though they have not declared it a homicide officially: "Any case involving someone found deceased in this manner" is treated as a homicide investigation, Iberia Parish sheriff Tommy Romero said in a statement on Saturday.
The sheriff's office has not named a suspect, but said officers had spoken to the people believed to have been with Quawan before he died. "We interviewed these same individuals and are currently tracking their whereabouts," police said, though they declined to confirm they had spoken with the Irvins. Neighbors of the Irvins say they were evicted from their mobile home this week, for unknown reasons. Romero also said he had reviewed a video that showed that Quawan was alone in the area where his body was found for at least part of the time before he died.
Law enforcement has also released the preliminary autopsy report in which the coroner states that, in his estimation, Quawan drowned. The report said his death was a "likely drowning" and that there was muddy water found in his airways. The coroner also attributed the scratches and wounds on Quawan's face to "aquatic animal activity" and said that the boy had not sustained the injuries before his death.
But family attorney Haley says that there is no more than two feet of water in the area where Quawan was found. "If in fact he did die of drowning — and we're saying that as an if — we're calling into question how exactly that would have happened," Haley told the New York Times. "Can somebody who's 5-foot-6 typically drown in two feet of water? No, not unless there's another cause associated with that." The Charles family had ordered their own independent autopsy, and last week asked for help online in raising $15,000 to conduct the autopsy. They soon raised over $100,000.
The results of that independent autopsy were leaked on November 16, and allegedly confirm that Quawan's injuries are "consistent with drowning." Though the report declined to definitively state a cause of death, it found no premortem "trauma or natural disease," per the New York Daily News. The family, however, remains "more interested in the manner of death," Chase Trichell, one of their lawyers, said on Monday. "If the scientific explanation is drowning, okay. Now let's narrow the focus to how Quawan came to drown in a sugarcane field. He was an able-bodied person before he ended up facedown in water that was ankle-deep."
Quawan's family says police did not act quickly enough after his disappearance.
In the weeks since his body was found, Quawan's family has demanded accountability from local law enforcement, who they say were delayed in their response to his disappearance. They criticized police for not alerting local news, and say that an Amber Alert was not sent out.
The family says the Baldwin police told them Quawan was entered into an Amber Alert database that must be activated by state police, who apparently determined that the circumstances didn't meet the threshold to trigger one. "It begs the question, had the protocols been followed, would Quawan be alive today?" family attorney Trichell said. "Once this became public, almost every local news station said, 'We had no idea a child was even missing," Haley, the other attorney, told the Post, adding that authorities hadn't tried pinging Quawan's cellphone until three days after he disappeared. "That's how they knew where to narrow the search for him."
"I want the lady who came to get my son without my permission, his dad's permission, to be held accountable," Nelson said during a vigil for her son. "She took them to her house. He was alive and well when he was here, and now he is dead."
The ACLU of Louisiana is joining the family in their calls for justice. "The disrespect and lack of transparency demonstrated by local officials in response to Bobby's tragic and suspicious death is unacceptable," Alanah Odoms Hebert of ACLU of Louisiana, said in a statement. "We join the family in demanding a full and transparent investigation into the circumstances surrounding Bobby's death."
This post has been updated with new information.