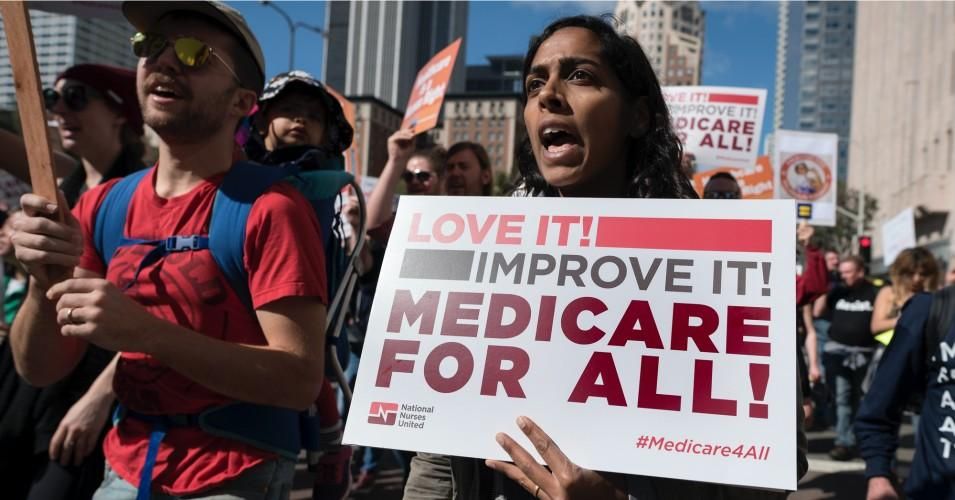 Single-payer healthcare advocates march in a Medicare for All rally in Los Angeles on February 4, 2017. (Photo: Ronen Tivony/NurPhoto via Getty Images) 
"Working together, Californians can save our state billions, save each family thousands, and most importantly, guarantee healthcare for all so that everyone has equal access to lifesaving treatment."
BRETT WILKINS August 1, 2022 (CommonDreams.org)
Universal healthcare campaigners in California on Monday unveiled a tool they say shows how most working families would save at least hundreds—and likely thousands—of dollars each year if the state implements a Medicare for All-type system.
"Every second of inaction costs hundreds of dollars, and each year of inaction has an even greater cost—4,000 lives."
The advocacy group Healthy California Now, together with National Union of Healthcare Workers and University of California, San Francisco professor and health finance expert James G. Kahn, launched a calculator that compares what individuals or families currently spend with what their costs would be under the type of Medicare for All system that Democratic Gov. Gavin Newsom campaigned on a promise to enact—but has done nothing to advance.
"It's a new day for healthcare reform in California, and working together, Californians can save our state billions, save each family thousands, and most importantly, guarantee healthcare for all so that everyone has equal access to lifesaving treatment," Healthy California Now president Michael Lighty said in a statement. "Every second of inaction costs hundreds of dollars, and each year of inaction has an even greater cost—4,000 lives."
According to the calculator, a family earning California's median annual household income of $78,600 and paying $500 in monthly health insurance premiums and $4,000 in yearly out-of-pocket costs, whose employer contributes $1,400 per month toward healthcare costs, would save nearly $16,500 every year under a Medicare for All system. An individual making $50,000 per year with a $300 monthly health insurance bill, a $500 employer pay-in, and $1,500 in self-funded healthcare expenditures would save $7,600 annually.
The moment we've all been waiting for is here! We are so excited to finally launch a project that our team has been working on – our Healthcare Savings Calculator!

We want you to be the first to try it, share it, and tell us what you'd save!https://t.co/Kzl2lW2AuM
1/4 pic.twitter.com/DdCfMo8LVB

— Healthy California Now (@4HealthyCA) August 1, 2022
For an uninsured person or family earning under $50,000 with less than $2,500 in out-of-pocket healthcare spending, savings would range from hundreds to around $2,000 per year.
"Taxpayers already foot the bill for over 70% of our state's healthcare," Kahn said in a statement. "The savings we can achieve by cutting the waste in private health insurance will allow us to guarantee improved healthcare services for all Californians while also lowering costs."
"Our estimates of spending under a universal healthcare system account for the added taxes required to cover the single-payer budget, while premiums and out-of-pocket costs disappear," he added. "Overall spending for single-payer will be less than under the current system, and taxes will be higher only for very high-income earners and corporations. Thus, the vast majority of working families will save money."
Although he campaigned on a pledge to deliver single-payer healthcare, Newsom has disappointed activists by backing away from his promise and taking hundreds of thousands of dollars in campaign contributions from the private health insurance industry.
In January, A.B. 1400, a bill that would have implemented a single-payer healthcare system in California, was withdrawn from consideration in the state Assembly in an eleventh-hour move that shocked and outraged progressives who had fought for the measure.
While Newsom has expressed concerns over the cost of universal care, the governor's Healthy California for All Commission reported in April that such a system would save 4,000 lives annually and $500 billion over the next decade. Meanwhile, the commission found that healthcare costs are projected to rise 30% over the next 10 years under the current system.
Writing for Common Dreams, Lighty said in a Sunday opinion piece that the commission report "shows we simply can't afford not to adopt a universal healthcare system."
"The door to quality, universal, and affordable care is open," he wrote. "On the other side is a California where we save lives and save money by cutting out waste and bureaucracy and putting quality healthcare before private insurance company profits."
A 2020 study published in the medical journal Lancet found that Medicare for All on a national scale will save Americans $450 billion and prevent 68,000 unnecessary deaths each and every year. Last month, Common Dreams reported that a universal single-payer healthcare system such as Medicare for All could have prevented 338,000 U.S. Covid-19 deaths.