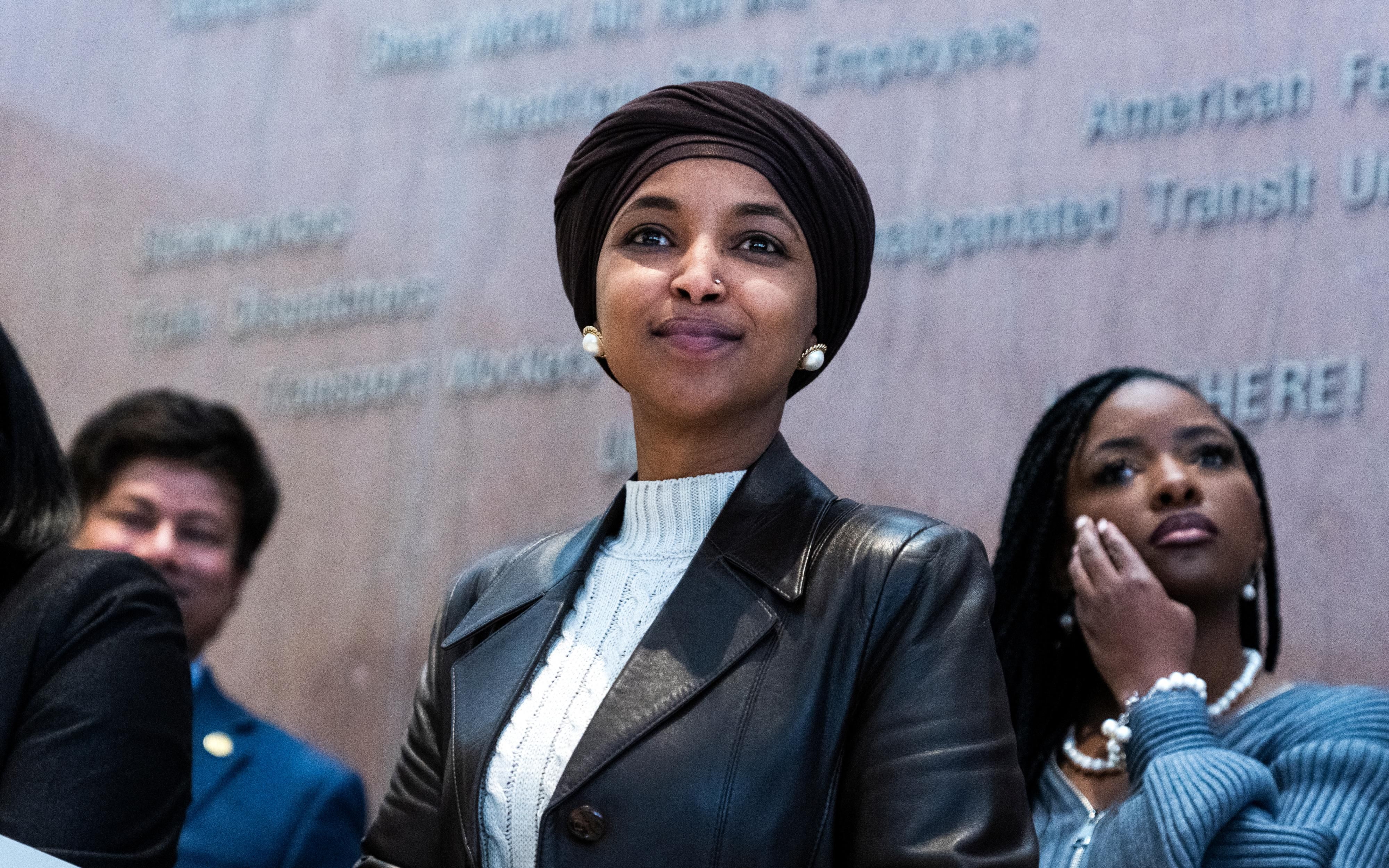 Rep. Ilhan Omar (D-Minn.) attends a news conference with newly elected incoming members of the Congressional Progressive Caucus at the AFL-CIO building in Washington, D.C. on November 13, 2022. (Photo: Tom Williams/CQ-Roll Call, Inc. via Getty Images)
"McCarthy's effort to repeatedly single me out for scorn and hatred—including threatening to strip me from my committee—does nothing to address the issues our constituents deal with."
JAKE JOHNSON November 21, 2022 (CommonDreams.org)
Rep. Ilhan Omar on Sunday vowed to continue "fighting for more equitable, more just, and more humane policies" after Republican House Minority Leader Kevin McCarthy threatened to remove her from the chamber's foreign affairs committee if he becomes speaker in the next Congress.
In a statement, Omar (D-Minn.) said that "McCarthy's effort to repeatedly single me out for scorn and hatred—including threatening to strip me from my committee—does nothing to address the issues our constituents deal with."
"I will not stop fighting for an America that does not single out people based on their race or religion."
"It does nothing to address inflation, healthcare, or solve the climate crisis," Omar continued. "What it does is gin up fear and hate against Somali-Americans and anyone who shares my identity, and further divide us along racial and ethnic lines. It is a continuation of a sustained campaign against Muslim and African voices, people his party has been trying to ban since [former President] Donald Trump first ran for office."
"I will not stop advocating for peace and human rights around the world," Omar added. "And I will not stop fighting for an America that does not single out people based on their race or religion."
Omar issued her statement after McCarthy (R-Calif.) said in a Fox News appearance Sunday that Republicans are "not going to allow" the Minnesota Democrat to keep her seat on the House Foreign Affairs Committee, which she has used to grill Trump and Biden administration officials on nefarious U.S. policy in Latin America, drone strikes on civilians, and U.S. opposition to International Criminal Court investigations.
McCarthy, who falsely accused Omar of anti-Semitism, won the Republican nomination for House speaker last week, but he remains short of the 218 votes needed to win the gavel as GOP members to his right threaten a revolt.
Even if he becomes speaker, McCarthy won't have the authority to unilaterally remove Omar from the foreign affairs panel. Such a step would require a vote before the full House.
Last year, the Democratic-controlled House voted to remove far-right Rep. Marjorie Taylor Greene (R-Ga.) from two committees after reporting spotlighted her past anti-Semitic and Islamophobic comments as well as her suggestion in 2018 that the mass shooting at Marjory Stoneman Douglas High School in Parkland, Florida was a "false flag."
McCarthy criticized Greene's past comments at the time but voted against kicking the Georgia Republican off of the House Budget Committee and the chamber's education and labor panel.
Earlier this month, just ahead of the midterm elections, McCarthy said Greene would receive committee assignments if Republicans regained control of the House—which they ultimately did by a narrow margin.
In her statement Sunday, Omar slammed McCarthy for doing nothing to "address the open hostility towards religious minorities in his party."
"Whether it is Marjorie Taylor Greene holding a gun next to my head in campaign ads or Donald Trump threatening to 'send me back' to my country (despite the fact that I have been a proud citizen of the United States for more than 20 years), this constant stream of hate has led to hundreds of death threats and credible plots against me and my family," Omar said. "At the same time, they have openly tolerated anti-Semitism, anti-Muslim hate, and racism in their own party."
"Newly elected [House Republican] Whip Tom Emmer [Minn.] said prominent Jewish Democrats 'essentially bought control of Congress.' And McCarthy himself accused Jewish Democrats of trying to 'buy elections,'" Omar added. "Instead of doing anything to address the open hostility towards religious minorities in his party, McCarthy is now lifting up people like Marjorie Taylor Greene, Emmer, and so many others. If he cared about addressing the rise in hate, he would apologize and make sure others in his party apologized."