XR Norway
12 JUN | Norweigian Parliament
Six rebels were arrested for interrupting a parliamentary session in Oslo with a protest speech demanding that the government declare a climate emergency (video here). The rebels were held for 12 hours and reportedly given the biggest fines in XR history: 118.000 NOK (10,886 GBP). We salute you, brave Norweigian rebels.
13 and 17 JUN | Government offices, Oslo, Norway
XR Norway rebels blocked the entrance to the PM's office on 13 June to protest the government's plans to continue extracting oil from 25 countries until 2070. The rebels appealed to our duty to future generations; many read statements on behalf of the young and unborn, including the father of Herik, eighteen months, who had his son in his arms as he spoke.
Just a few days later, rebels blocked the entrance to its Ministry for Climate and Environment, in condemnation of the Norwegian government's inaction on climate targets. Despite being part of multiple international climate agreements, they continue to push compliance dates into the future. They have recently invested in a massive road building programme and approved a record number of new licenses for oil exploration. They are one of the few countries in Europe with higher emissions in 2016 than in 1990. In addition, they own one of the world's largest oil companies. Here's hoping the rebels' voices were heard.

'Our Blood' action outside Swiss Parliament
6 JUN | Bundesplatz, Bern, Switzerland
Photo by Patrick Frauchiger. Find more of his stunning photos from the event.
On 6 June, the Swiss parliament decided how much money it would invest in the European climate budget. With fake blood and a non-violent die-in, rebels called on ministers to act now to prevent the sixth mass extinction of life on earth.
XR Israel
26 JUN | Gas refinery, Haifa
Photo by Michael
XR Australia
21 JUN | State Library, Melbourne
22 JUN | Die in at Forest Chase, Melbourne
Photo by Tobias Busch
21 JUN | Brisbane
Hundreds of rebels marched across Victoria Bridge, stopping rush hour traffic and glueing themselves to the road. Frank, pictured, along with six other Rebels were arrested but only two were charged.
24 JUN | Sydney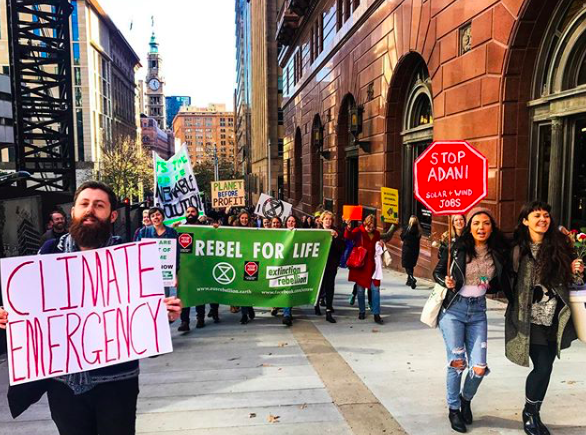 Rebels joined hands and had five minutes of silence before singing as they marched through Martin Place.