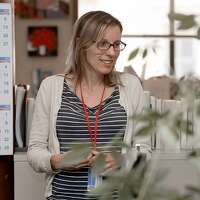 Rachel Swan  Jan. 30, 2018 (SFChronicle.com)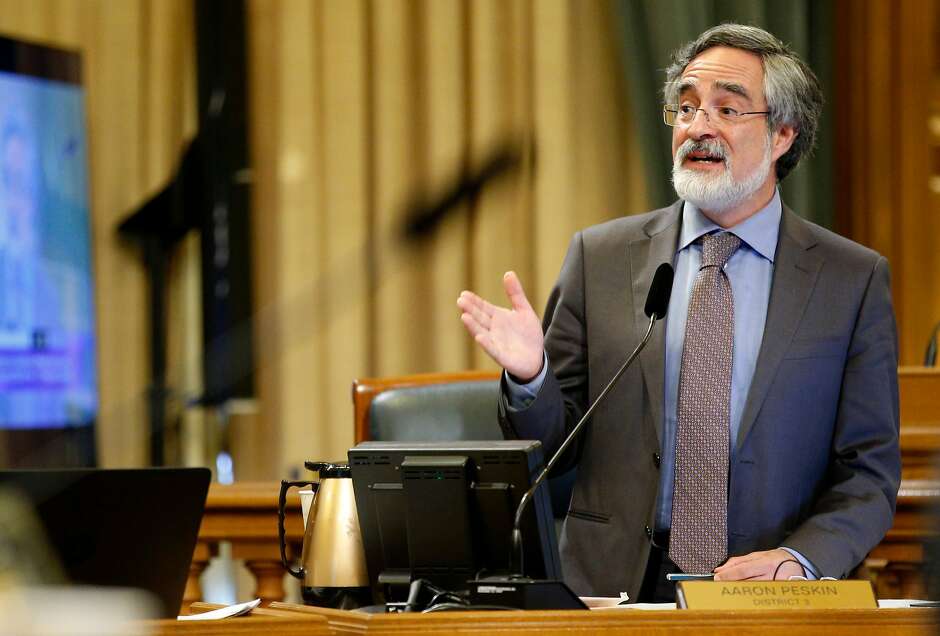 Supervisor Aaron Peskin, during a Board of Supervisors meeting at City Hall, on Tuesday, Nov. 15, 2016 in San Francisco, Calif.Photo: Santiago Mejia / The Chronicle
San Francisco's "Question Time" — a long-standing monthly appearance by the mayor before the Board of Supervisors — was meant to trigger serious debate between the two branches of government.
But in the 12 years since voters approved the practice, it's become a stock ritual in which no questions are asked. Instead, the supervisors sit patiently while the mayor delivers a five-minute prepared speech. The last time a supervisor submitted a question was in September 2016, according to board clerk Angela Calvillo.
"It's made a farce of what the voters voted for," said Supervisor Aaron Peskin, who is sponsoring an ordinance to revamp the rules for these question-and-answer sessions. Under his proposal, supervisors would no longer have to present questions ahead of time — rather, they would submit the "general topic" of each question a week before the mayor's scheduled appearance.
Peskin's ordinance would also allow the mayor and supervisors to ask follow-up questions of each other, encouraging a back-and-forth exchange. Question Time would be split up among districts so that up to four supervisors would be eligible to cross-examine the mayor each month.
The idea: to create a lively discourse on city policies, modeled after a British government proceeding in which the prime minister answers questions from Parliament. That was what former Supervisor Chris Daly envisioned when he and three other progressives devised the original Question Time ballot measure in 2006, hoping it would force debate with then-Mayor Gavin Newsom.
Momentum died over the years, and even the most outspoken supervisors stopped asking questions. Peskin submitted his last question in January 2016, then gave up.
— Rachel Swan
Street dispute: A legislative aide to Supervisor Aaron Peskin was the subject of a citizen's arrest for battery, after she allegedly pushed a man outside a shop in Chinatown.
The incident happened shortly after midnight on Aug. 16, when legislative aide Sunny Angulo confronted a man who had parked his minivan in front of a cell-phone repair store at 1142 Grant Ave.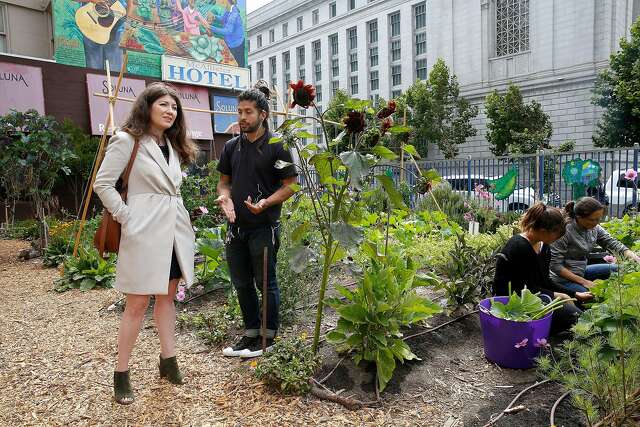 Legislative aide Sunny.Angulo talks with garden coordinator Alex Dazhan at the Tenderloin National Forest last year — an incident in Chinatown resulted in her being cited.Photo: Liz Hafalia, The Chronicle
The man, Robert Kinann, said he was in the back seat of the idling van with his infant child while he waited for his wife to get off work at the store. According to a police report, Angulo pounded on the hood of the vehicle, prompting Kinann to get out and confront her. As the argument escalated, a "slightly intoxicated" Angulo shoved Kinann with both hands, according to the report obtained by The Chronicle.
Angulo later told police that she had knocked on Kinann's hood because she believed he was violating a city traffic law that prohibits commercial vehicles from idling for more than five minutes — Kinann's minivan has two Uber stickers on the windshield, and Kinann told police he occasionally drives for Uber.
He said, however, that he was not actively picking up fares at the time of his confrontation with Angulo.
Footage from Kinann's dashboard camera showed him and Angulo arguing and getting close to one another, then exiting the frame. Angulo denies pushing Kinann.
At the time of the incident Angulo was contemplating a run for supervisor of District Six, which includes SoMa, the Tenderloin, Rincon Hill and Mission Bay. She later bowed out of the race.
Angulo attended a court hearing on Oct. 31, but Kinann didn't show up, and the charges were dropped. Kinann didn't return a call seeking comment Monday.
The incident report was sent anonymously to The Chronicle on Friday, days after a contentious vote in which six supervisors — including Peskin — appointed Mark Farrell interim mayor, unseating acting mayor London Breed. Peskin was said to be a key player in orchestrating the vote.
"Here are the facts," Angulo said. "A partial police report was sent anonymously to press for an incident where the police took no action, no charges were filed and the Uber driver in question never even showed up to a hearing to back up his allegations. It is very obvious that someone would really like to blow this incident out of proportion and score some political points without getting their hands dirty."
— Rachel Swan
Follow Rachel on:https://www.facebook.com/SFChronicle/rachelswan
Rachel Swan covers transportation for The Chronicle. She joined the paper in 2015 and has also reported on politics in Oakland and San Francisco.
Previously, Rachel held staff positions at the SF Weekly and the East Bay Express, where she covered technology, law and the arts. She holds a Bachelor's degree in rhetoric from the University of California, Berkeley.
©2020 Hearst
1 Article RemainingGet unlimited digital access for only 95 centsSUBSCRIBE