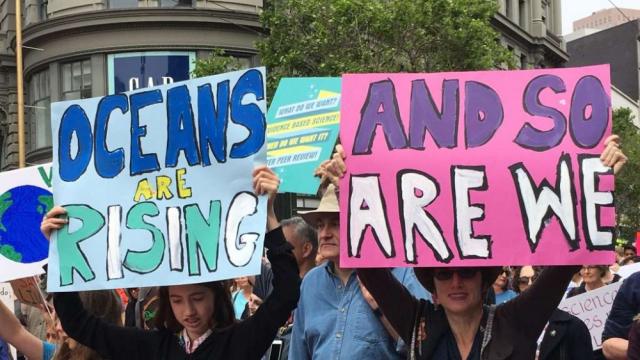 April 25, 2017
SAN FRANCISCO – Former Chief of Data Science Dr. Patil hands a fistful of markers to his daughter and motions to a blank poster board, asking her what she'd like to write on her sign. A man to his left dressed as Albert Einstein holds one reading, "Understanding global warming doesn't require an Einstein – just an open mind." Flying Spaghetti Monster flags flutter over two men dressed as Smokey the Bear, and as demonstrators stream into Justin Herman Plaza to kick off the March for Science in San Francisco, it is already clear this is not your usual demonstration.
Responding to the Trump administration's recent budget cuts and the muzzling of entities ranging from the EPA to the National Park Service, the March for Science inspired hundreds of thousands worldwide to take to the streets on Saturday to defend scientific research and its use in informing public policy. The March was hatched by Bay Area-based science educator Kishore Hari immediately following the Women's March on Washington in January; less than 24 hours after Hari announced the planned march, it had more than 1 million followers.
"The tone of the conversation is that [scientists] fundamentally felt like their work, who they were, was being questioned. You could hear the hurt and frustration in that," Hari told Occupy.com. On Earth Day, April 22, more than 20,000 people filled the downtown streets of San Francisco while some 600 March for Science satellite events spanned the globe – from New Zealand to India to the event's epicenter, Washington, DC – as science supporters demanded the administration take a new tack. As Hari said, the international demonstration amounted to "[the] largest science event in the history of humankind."
Creative protests signs featured prominently here and in marches nationally. So did the roster of high level scientists who were invited to speak. While Bill Nye was perhaps the most prominent figure to address the crowd in DC, San Francisco featured numerous leaders in the field, including Kathy Seitan, former project manager of the Environmental Protection Agency.
"EPA is the eye of the storm," Seitan told Occupy.com. "We are the number one agency that they want to dismantle. Of course, they want to dismantle anything that has any relevancy to people's actual lives. The EPA is the center of that because we're the ones who produce the facts and the solutions to the problems that they deny even exist, so that's why we're bearing the brunt of the attack."
Prior to the march, controversy circulated among scientists about the potentially negative outcomes of politicizing science – making it a partisan issue by attacking primarily Republicans' position on science issues, ranging from climate change to vaccines to reproductive health. But "everything is political, what isn't?" said Seitan. "The scientific method itself is not political, it remains objective and it strives to be objective – it means we strive to be unbiased to the facts. However, what is political are the attacks on science and the refusal to apply science to our most pressing policy issues. Scientists [are] standing up for themselves and the work we produce to use it to affect policy."
Dr. D.J. Patil, former U.S. chief data scientist, spoke to the power of science in helping steer more enlightened, practical policy measures. "When we were in the White House, and you saw whatever crisis came through – Zika, Ebola, or even the question of how do we find the next tailored genomic treatments for somebody who has a rare disease or cancer – that requires scientists," Patil told Occupy.com. "Not just investment in science but active, aggressive figuring out how science goes into every single type of policy, every single thing we do as a nation. When that comes together, that's really one of those super powers for us as a country."
Adam Savage, scientist and co-host of the popular show Mythbusters, also spoke at Saturday's rally prior to the march. He said he doesn't see politicization as an issue worth focusing on. "I'm excited about this demonstration," Savage said. "One of the key ways we exercise democracy is by voting, but even more importantly by gathering together and unifying our voice – voting is one way to do it, this is another. And I think that the last few months have shown that this is a really powerful way for the left to organize and let their voices be heard."
When the speeches came to an end just after noon, the mass of thousands began walking, singing, chanting and cheering as they made their way down Market Street. Some protesters carried bird puppets, while others rode bicycles with speakers blaring protest songs. Every so often, "science, not silence" shouts emanated from the crowd. The march emptied out into a science fair in front of City Hall, where dozens of educational booths were set up, including the Cal Academy of Science and the 49ers STEAM team.
Now, in the aftermath of Saturday's success, the inevitable question arises: Where does the March for Science go from here? "I'm hoping that [after this], people will better understand what the attacks on science are, and how critical they are to the life of the entire planet" Seitan added, "and [that people] will continue to put pressure on the whole political spectrum for making sure that science informs our decisions and that we act on these very pressing problems."
Bryan Dang, a marketing and tech professional who helped organize the March for Science in San Francisco, said he hopes this "becomes a real paradigm shift in terms of mentalities that people have towards scientists and how scientists engage with the public, and how we're able to come together to promote evidence-based policy and stand for the scientific consensus that we may have at the time. In San Francisco, I hope that this turns into a group that really focuses on outreach in the Bay Area."
Speaking to the political nature of debates over science, Savage said, "[Even] if there are people who are going to hear me that will disagree with me politically, I hope we can agree that we all have the same first principles: a better world for ourselves, our kids, our loved ones, our community. If we can start a conversation from that, we are in great shape."
The March for Science is following Saturday's event with a national and global "week of action", including tools to reach out to elected officials and other ways to champion science for the common good. The organization is looking to grow its network of chapters and partner organizations, sharing resources as it encourages science and grows other civic outreach efforts.