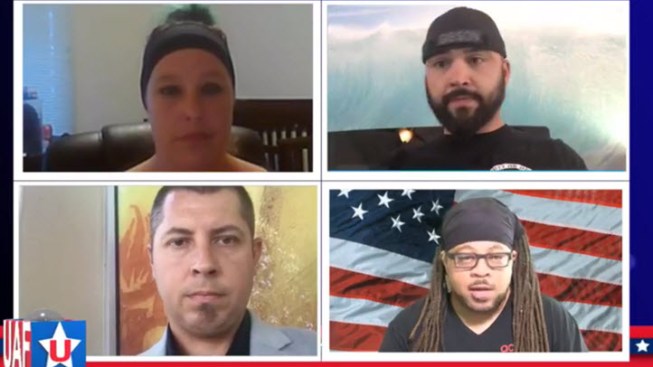 The conservative group will hold a press conference at 2 p.m. at Alamo Square instead
August 25, 2017 (nbcbayarea.com)
The Patriot Prayer group has canceled a controversial free speech rally in San Francisco, citing the "fear brought on" by the city's leaders, including Mayor Ed Lee and Nancy Pelosi.
The group said they will hold a press conference instead at Alamo Square, home to the city's famous Painted Ladies, and have invited the media to attend.
Patriot Group leader Joey Gibson made the announcement during a Facebook Live Friday afternoon, saying all the measures brought on by the city's police and leaders forced the organizers to cancel it.
"After several conversations with the police, and understanding the situation, we've decided that tomorrow really feels like a set-up," Gibson said. "A lot of people's lives aren't going to be safe. The rhetoric from Nancy Pelosi, Mayor Ed Lee, the media, all these people are saying we're white supremacists, bringing in tons of extremists, and it just seems like a huge set-up, so we're not going to fall into that trap, we're not going to rally at Crissy Field."
"At the end of the day we want people to be safe," Gibson said.
Gibson said that they felt the event would have turned into a huge riot, and asked for protection during the press conference, especially from "antifa," groups that oppose fascism, often violently.
Intermingling of protesters would have left nothing but casualties, organizers said.
The Patriot Prayer group had promised to hold a peaceful rally, but the group has held events elsewhere that have turned violent.
The rally has been hugely controversial from the very beginning, with Mayor Lee and other Democratic leaders vociferously speaking out against it.
As expected from the most liberal city in America, San Francisco had decided to counter the rally at the foot of the Golden Gate Bridge – and the larger "alt-right" movement – in a quintessentially San Francisco way. If clowns, sheet cake, dancing and dog poop wasn't enough in terms of a protest, Bay Area ports were planning to close down Saturday as well.
Dock workers, members of the International Longshore and Warehouse Union Local 10, voted to "Stop the Fascists in San Francisco" Thursday in order to prevent a repeat of the events in Charlottesville, Virginia.
"Dock workers, who have a long history of port shutdowns against racism, war and police terror, aim to prevent a repeat of last week's murderous Nazi/white supremacist attack," the union said.
A giant inflatable chicken, that bears the hairstyle of President Donald Trump, was also supposed to make an appearance in the San Francisco Bay.
Nobody really knew what to expect at the rally, which was approved by the National Parks Service despite protests from Mayor Lee and Pelosi.
Local bloggers summarized Patriot Prayer's beach-side event as a "photo op of Battle Royale with Golden Gate Bridge as the backdrop."
"The location will be particularly powerful when it comes to image-making, and that is likely the intent of Patriot Prayer in choosing it," local blog SFist wrote.
The Southern Poverty Law Center describes the Patriot Prayer group as "provocateurs," whose previous rallies have been attempts "to provoke black-clad ideologues on the left into acts of violence."
"And pictures and video of such violence with the Golden Gate Bridge as a backdrop — given all that the words "San Francisco" symbolize for commentators on the right, and even the center-right — are most certainly what extremist groups and alt-right personalities are hoping for," SFist wrote.
Gibson said that the group respected the residents of San Francisco, and called on them for support.
Meanwhile, protests on the other side of the Bay Bridge in Berkeley, will go on as planned on Sunday. A permit was denied, but the "Rally Against Marxism," and counter-protests will take place at Civic Center Park.
Patriot Prayer will be in attendance, organizers said.
Note from Mike Zonta:
This is a great victory for the Antifa (anti-fascists), for San Francisco, for Occupy, for lovers of free speech and for anti-racists.  Like the crying Nazi, these right-wing groups went all soft and gooey when faced with actual peaceful opposition (and potentially lots of dog shit).