December 17, 2017 (occupyoakland.org)
Categories: Front Page, Open Mic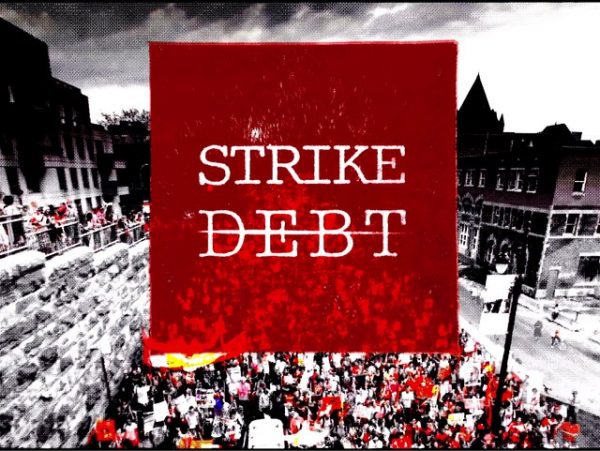 Strike Debt Bay Area (SDBA) wrote and participated in the airing of an hour long KPFA radio show on financial inequality – causes, reprecussions and what we can do about it. Darlene Pagano, a member of SDBA and KPFA intern, hosted the show, called "Full Circle" which aired on Friday evening, December 15th, 2017 at 7:00 PM.
You can listen to the show here, on KPFA's apprentice web page, along with other Full Circle productions including "Trumping Democracy" and "Puerto Rico and Disaster Capitalism".
Here's some "best of" excerpts from the show.
Just as there are more homeless people every day, there are also more obscenely rich people in this country than there have ever been. Thats inequality.
… [our] unequal society, astoundingly, is continuing to get more and more unequal as more and more people's wealth decreases, more and more people's debts increase, while the super-rich accumulate more and more.
We have a very weird myth in this country, that almost no one else in the world has, which is that you should vote for and support things that are good for rich people, because someday you're going to be rich….
You have more people who used to be middle class working McJobs for McMinimum wages. Then you have some smaller number of people moving up, getting upper middle class salaries. And finally there's the one in a hundred who are getting even more obscenely rich from their investments and shenanigans. That's growing inequality in a nutshell!
…these and similar effects are so dramatic that the average black family in this country has only about a tenth of the wealth that the average white family does.
If we lived in a democracy where the laws reflected the will of the people, the tax scam would have never made it to a vote.
Consider the elected-by-a-minority poor excuse for a human being now occupying the White House. He claims to be a master of the art of the deal, but he's really a master of the art of bankruptcy: he's amazingly skilled at… having his corporations pay him tons of money and then having it declare bankruptcy, so all the money stays in his pocket.
While the Obama administration promised some relief to some student victims, they never managed to deliver it before the apocalypse (er, Jan 20th, 2017) Guess what? DeVos is doing her best to renege on those unkept promises. In fact, just yesterday, California and other states sued DeVos and the Department of Education to force them to make good on forgiveness for 80,000 students!
Having your life cut short is a pretty pernicious form of inequality.
Underlying the push against universal health care, universal education and the greater American push against subsidies or supports of any kind for poor people, is the embedded white supremacy and racism of much of our country… "if we provide decent health care, 'they' will be getting something for nothing."
no one – except Republican elected officials – wants to go back to those 'good old days' of [health] insurance company terror.
a large portion of the Bay Area's homeless could be housed in such ways on existing open space at relatively little cost. A lot of human misery would be lifted, a lot of human excrement would be kept off our streets, and inequality would be reduced just a little.
There are more payday lenders in the United States than there are McDonald's and Starbucks combined!
It's in almost everyone's interest to provide emergency funds to people a lot less expensively than we do now. It would be incredibly popular. Politicians should be all over it. But they aren't.
Think of what money on that scale [from having a public bank] – a hundred million dollars plus a year – could fund and fix in the cities around us.
Check out Strike Debt Bay Area at our website and/or attend our next meeting.

Strike Debt Bay Area arose out of Occupy Wall Street and Occupy Oakland in late 2012.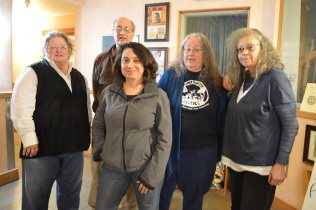 Host, participants and production team.