FRI, 9/17/2021 – BY CARL GIBSON  (Occupy.com)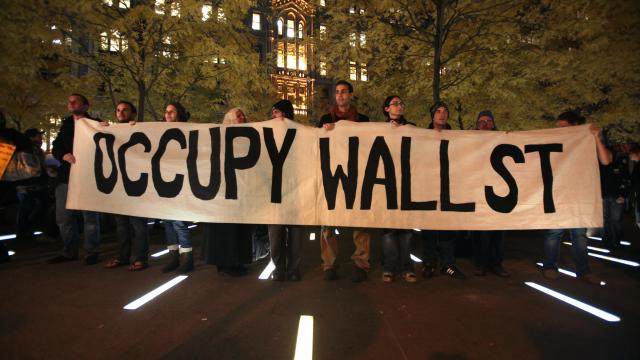 Now that the Occupy movement has turned 10 years old, it's worth looking back and gauging how effective our protest against capitalism and oligarchy has been over the past decade. Yes, the tents and occupations are long gone. Yes, capitalism is still the dominant ideology. And yes, banks and multinational corporations still run our government. But when following the timeline, the impression Occupy Wall Street left on American politics, society, and how we talk about capitalism is undeniable.
10 years ago, when the first Occupy Wall Street activists descended onto Zuccotti Park in Lower Manhattan, the entire movement was largely met with ridicule. A New York Times write-up cast protesters as non-threatening, inanely shouting about the greed of the financial sector as tourists "gazed quizzically" at the spectacle.
A week later, NYPD lieutenant Anthony Bologna (known as Tony Baloney) pepper-sprayed two young women without provocation. The incident went viral, and soon, Occupy encampments sprung up in hundreds of cities nationwide (full disclosure: I helped organize with Occupy Houston, which maintained a physical occupation well into summer of 2012).
The camps themselves served a variety of purposes. We not only had a physical space to practice direct democracy and hold a 24-7 dialogue with local residents about capitalism, we also fed the homeless by collaborating with grassroots mutual aid groups like Food Not Bombs, and provided the unhoused community with temporary shelter. Our camps served as hubs to plan nonviolent direct action, and as public forums for dialogue about capitalism, racism, the climate crisis, and other topics that were often ignored by major media.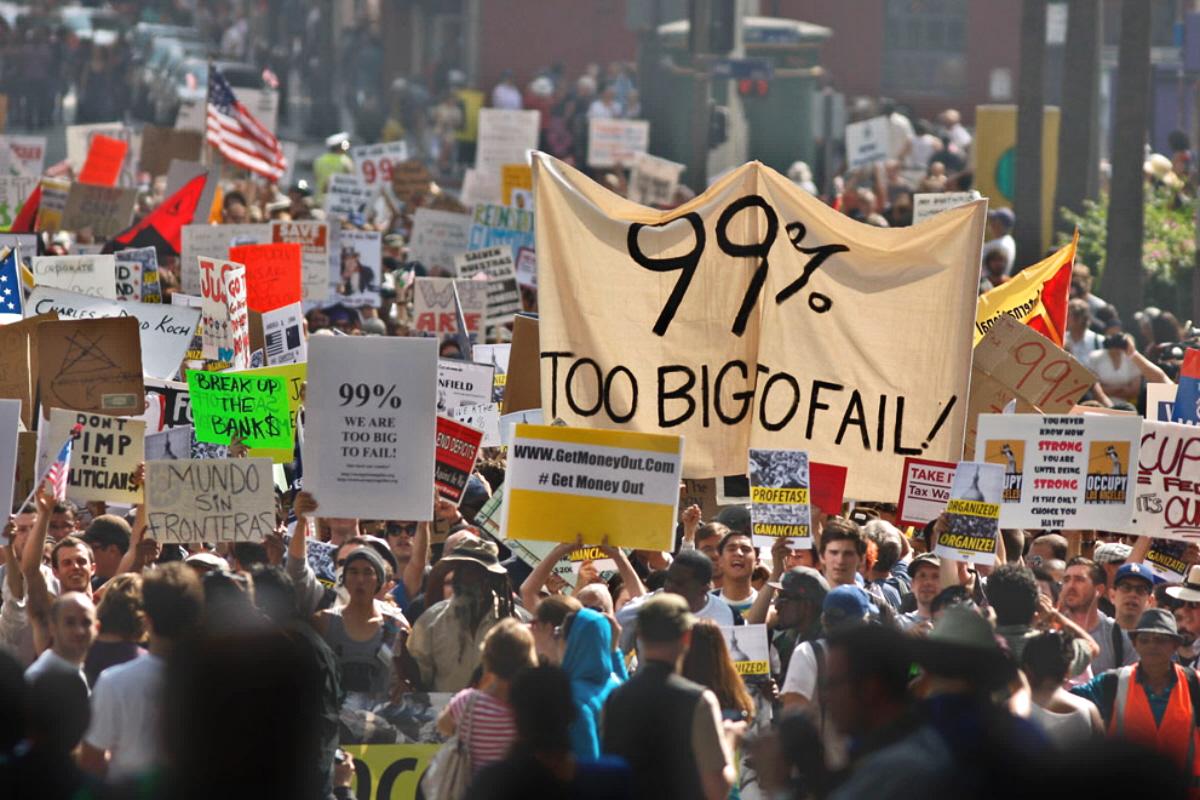 Occupy Wall Street was never meant to remain married to the tactic of occupation. In 2011, members of Spain's Indignados movement told Occupy Houston organizers on a conference call that the camps were a means to an end. In fact, the Indignados recommended we voluntarily disassemble the encampments after two weeks to organize our family members and neighbors in our own communities. Looking back, maintaining the camps into the winter months was a tactical mistake, and we went from having the sympathy and support of the community to becoming a public nuisance and a target of ridicule.
But Occupy had a tangential impact in society even well after police evicted the encampments. In New York City, Occupy Sandy sprung up in the aftermath of Hurricane Sandy to coordinate with the national guard and direct mutual aid efforts to support those most in need. Occupy Madison still continues its efforts to build tiny homes to shelter the homeless, which is even more crucial during Wisconsin's notoriously brutal winters. In Minneapolis and elsewhere, Occupiers successfully defended multiple attempts to evict victims of foreclosure. Occupy's Strike Debt movement launched the Rolling Jubilee campaign, which ended up buying nearly $32 million in distressed medical debt for pennies on the dollar, and abolishing it. Shortly after she was elected, Congresswoman Alexandria Ocasio-Cortez occupied the office of House Speaker Nancy Pelosi in conjunction with Green New Deal advocates.
The Occupy movement's true legacy is perhaps as a seed of more radical direct action and political campaigns that permeated future years. Occupation was a critical tactic in direct action efforts to stop construction of the Keystone XL and Dakota Access Pipelines. The tactic of shutting down traffic on highways and at major intersections that became a staple of Occupy Wall Street was later repeated at Black Lives Matter actions across the country.
In 2016 and 2020, Senators Bernie Sanders (I-Vermont) and Elizabeth Warren (D-Massachusetts) both ran on platforms that borrowed heavily from the Occupy movement. Sanders pushed for universal healthcare and a living wage, abolishing student debt, and putting an end to imperialist foreign policy. Warren ran on free universal child care, aggressive anti-corruption policies, and establishing a wealth tax targeted specifically at the super-rich. Sanders won tens of millions of votes and nearly half of all states in the contest for the Democratic nomination in 2016 despite a documented effort by the Democratic Party's leadership to sabotage his campaign.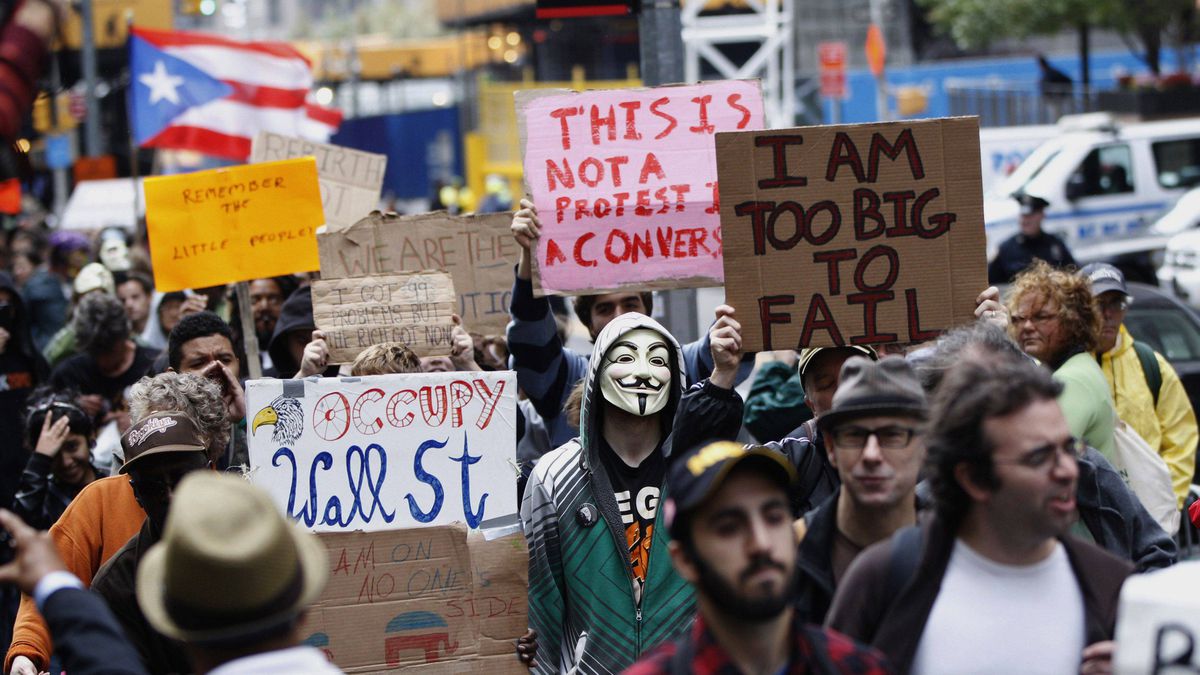 Even though Joe Biden ended up becoming president, even the relatively conservative former Delaware senator has adopted some of the economic populism mainstreamed by the Occupy movement. President Biden has boldly come out in favor of significant tax increases on the rich, while simultaneously pursuing a $3.5 trillion budget bill that would be the most ambitious social welfare legislation since the New Deal if passed. The contents of Biden's plan contain a multitude of programs championed by the Occupy movement, like universal pre-K education, establishing a national paid family and medical leave program, and allowing Medicare to negotiate prices for prescription drugs for the first time ever.
President Biden has even been the first president to acknowledge the epidemic of dozens of multinational corporations getting away with paying zero US taxes — a subject that gained mainstream attention following the US Uncut movement that predated Occupy (full disclosure: I was one of the co-founders of US Uncut).
Anyone that claims the Occupy movement failed hasn't been paying attention to American politics for the last decade. The fight to eradicate capitalism and wrest control of our government back from the corporate elite goes on. But Occupy built the foundation for today's protest movements, dictated the tone of the last two presidential elections, and continues to have a lasting impact on how we talk about capitalism. In 2016, a majority of millennials had unfavorable views of capitalism. By 2021, both millennials and Generation Z had a negative view of capitalism. A full 41% of Americans now view socialism in a favorable light.
The camps may have been disbanded, but Occupy's values have become inextricably connected with society. Socialists are increasing their ranks in Congress and in state legislatures, and Democratic Socialists of America — the largest and most influential socialist political party in the US — continues to organize for electoral victories from the municipal to the national level. Occupy isn't going anywhere.
Carl Gibson is an independent journalist and columnist whose work has been published in CNN, The Guardian, The Washington Post, The Houston Chronicle, Barron's, Business Insider, The Independent, and NPR, among others. Follow him on Twitter @crgibs.