$3,235 USD raised by 22 people in 1 day
13% of $25,000 goal

Omni Commons, Organizer 
Omni Commons
Our Story
Three and a half years ago, an historic former Italian social club in the heart of a rapidly-gentrifying Oakland neighborhood was up for lease or sale. Instead of being acquired by a commercial developer, East Bay Food Not Bombs, and several other nonprofits and social justice groups, came together to rent the building. They formed Omni Commons, a horizontally-run, all-volunteer organization using the principles and practices of successful resource commons to support place-based activism, science, technology, art, and community. Omni Commons is committed to members of our community whose lives and work are negatively impacted by rising rents and the displacement of public and community spaces.
This month, we celebrate the one-year anniversary of buying the building by launching the Kitchen Renovation Project!    
A professional kitchen by and for the people…
The kitchen is the heart of the home, and shared meals bring community together. Our vision is to provide a professional kitchen for our member collectives, as well as aligned organizations and individuals who can't afford the high rents charged by most commercial kitchens in the area. For Omni member collectives, a professional kitchen will increase their effectiveness and reach. Groups that use the Omni will prepare food for events. Small food producers, street vendors and caterers will be able to rent kitchen time to make their products. Everyone in the Omni community will benefit from the increased connection that comes from making and sharing meals.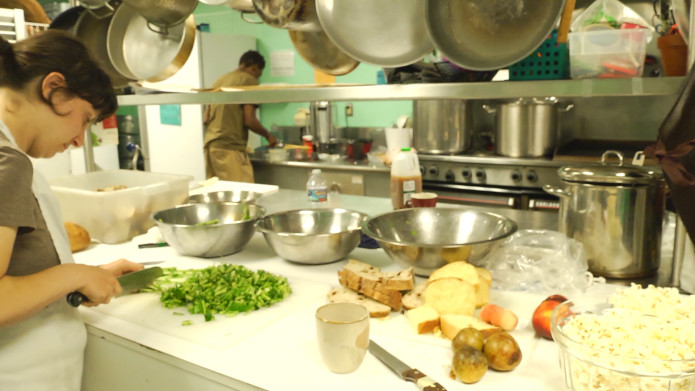 East Bay Food Not Bombs (FNB), a founding member collective of Omni Commons, has been bringing free food to parks, political events, neighborhood gatherings, and social centers since 1991. Currently FNB volunteers feed hundreds of hungry people 6 days a week. Until now, they have used the basement kitchen space only to store and prep ingredients before driving everything to a separate space to actually cook the meals. FNB envisions the day when food storage, prep, and cooking happen at the same location – simplifying meal logistics and conserving precious volunteer time and energy.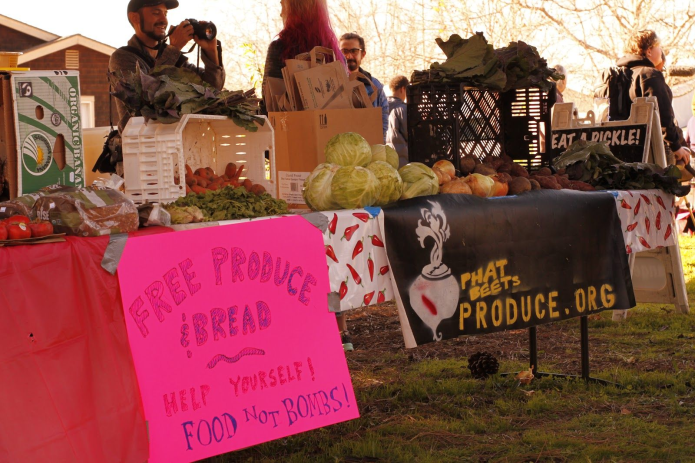 With the new, commercial kitchen on site, Phat Beetz Produce, our other in-house food justice group, will be able to further their goal of a healthier, more equitable food system in North Oakland. Among other projects, they provide nutrition education, training, experience, and income to youth through the Fresh Fellows Program, the Youth Pickle Company, and the We Cater! Collective. Renting commercial kitchen time outside of Omni is a large expense for their program.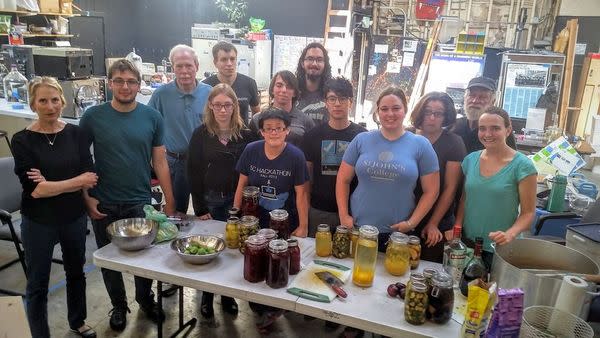 Counter Culture Labs' (CCL) weekly Fermentation Stationmeetup could increase their capacity to rescue local produce for conversion to delicious vinegars, brews, and tonics.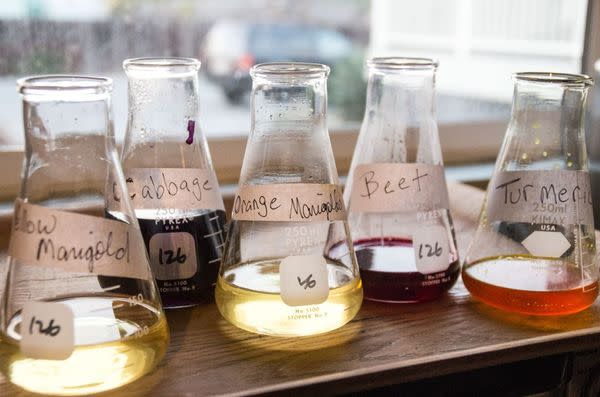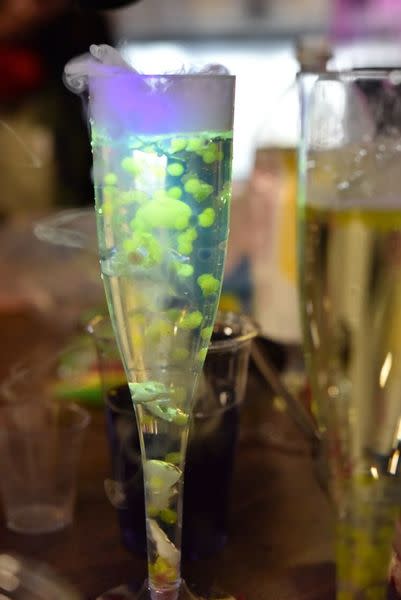 CCL also regularly runs kitchen science and food hacking projects, from Kombucha Genomics, to making mad science cocktails, and culturing cheese ripening bacteria.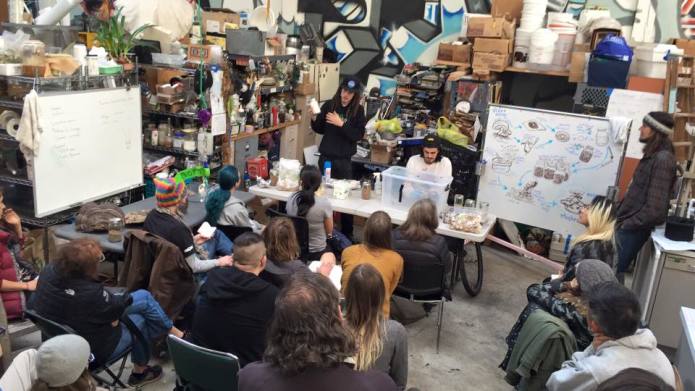 Bay Area Applied Mycology, who run a small lab out of CCL, would process the mushrooms they forage and cultivate for both edible and medicinal use.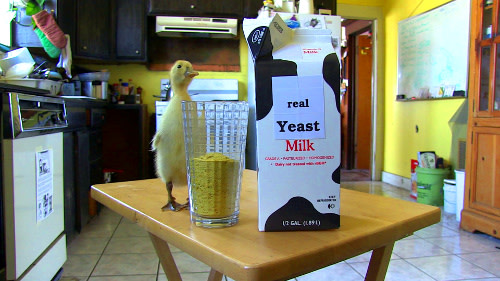 And one day, the imagination and hard work of the Real Vegan Cheese project could be realized in the marriage between CCL's lab and Omni's professional kitchen.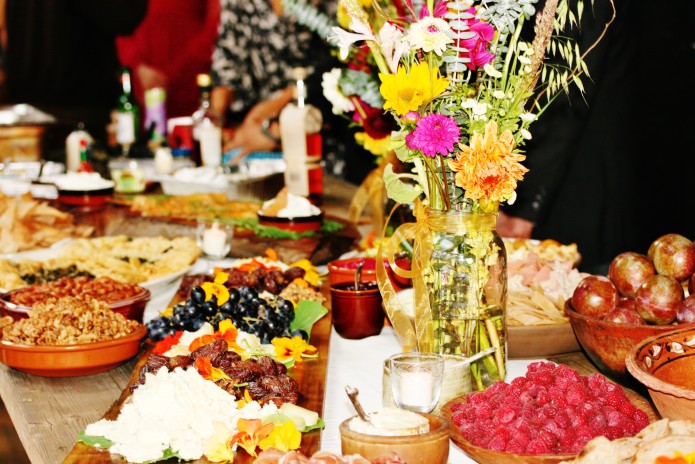 Once we have a kitchen, when YOU use the Omni for an event, you'll be able to prepare food for it on-site.
The Breakdown:
A cutting-edge, professional kitchen is a very expensive and labor-intensive project to execute, and even more difficult when put into motion by volunteer staff who have day jobs and caretaking labor to juggle. This is why we've chosen to break down the full scope of this endeavor into three phases over the next 6 months – each with its own budget, timeline, and plan of action.
This campaign is seeking to finance Phase 1 of the kitchen build-out: Groundwork!
Phase 1: Groundwork – Goal: $25,000
We need to raise a total of $25,000 over the next 45 days to cover the costs of permit fees, demoing walls to build out an expanded area, and necessary plumbing upgrades such as installing a mop sink, grease traps, and floor drain.
Phase 2: Reconstruction – Goal: $20,000
This will be another separate campaign we launch in the spring of 2018, which will build out the space and get it ready for the last phase. In this phase of the campaign, we'll raise the additional funds for necessary electrical and ventilation upgrades, replacing the windows, building new wells, installing a fire suppression hood, and finally grinding and coating the cement floors with epoxy.
Phase 3: Move-In – Goal: $20,000
This will be the last campaign we launch in the summer of 2018, which will cover the costs of replacing the 18-burner stove and purchasing the additional remaining equipment necessary for us to begin serving meals from the community for the community!
Risks and Challenges:
Money. By far the greatest challenge we face is funding. Though we are an anti-capitalist organization, we nevertheless have to pay our mortgage, utilities, and materials costs for maintaining the building. We will not be able to finish the kitchen a timely manner if we don't successfully raise the funds for all three phases through crowdfunding or grants.
Time. As a volunteer-run organization relying heavily on donated labor to reduce costs, sometimes work moves slower than we would like.
Unexpected building issues. This building is 80 years old, and has not been well cared for in the past. There's no doubt that once we start opening walls or digging in the ground that we are going to run into some icky sticky stuff, and not just in the pipes.
Other ways you can help:
SPREAD THE WORD: If you can't give monetary support right now, we would be hugely grateful if you could share this campaign with your communities.
VOLUNTEER! The Omni Commons is 100% volunteer-run. Get in touch if you'd like to volunteer! We're especially looking for folks who have experience with building and running a commercial kitchen, but also always in need of a pair of helping hands, fundraising and communications/outreach assistance.
DONATE! Help complete the kitchen by donating any of the items on our WishList, such as stainless steel prep tables, utensil racks, and ja commercial ice-maker.
Thank you for your support!
Love,
Your friends and comrades at Omni Commons
Frequently Asked Questions
What happens if you don't reach your goal?
Even if we don't reach our goal, every dollar we raise goes directly to the costs of renovating the kitchen and bringing it up to code for use by the community.
What kind of things happen at the Omni?
Omni Commons is a space to host public events; reclaim technology for the people through affordable space and shared resources; develop open science biology projects in a shared community lab; create film and media projects telling stories that would otherwise remain untold; print everything from books to t-shirts for causes and campaigns; organize around social issues and provide food sovereignty and economic opportunities for the people.
The kind of support provided by this 100% volunteer-run project includes the meeting of immediate needs such as food, internet access, shared tools and equipment – to affordable space for learning, collaborating, and organizing around sustainable, community-owned alternatives to existing corporate- and state-controlled infrastructure.