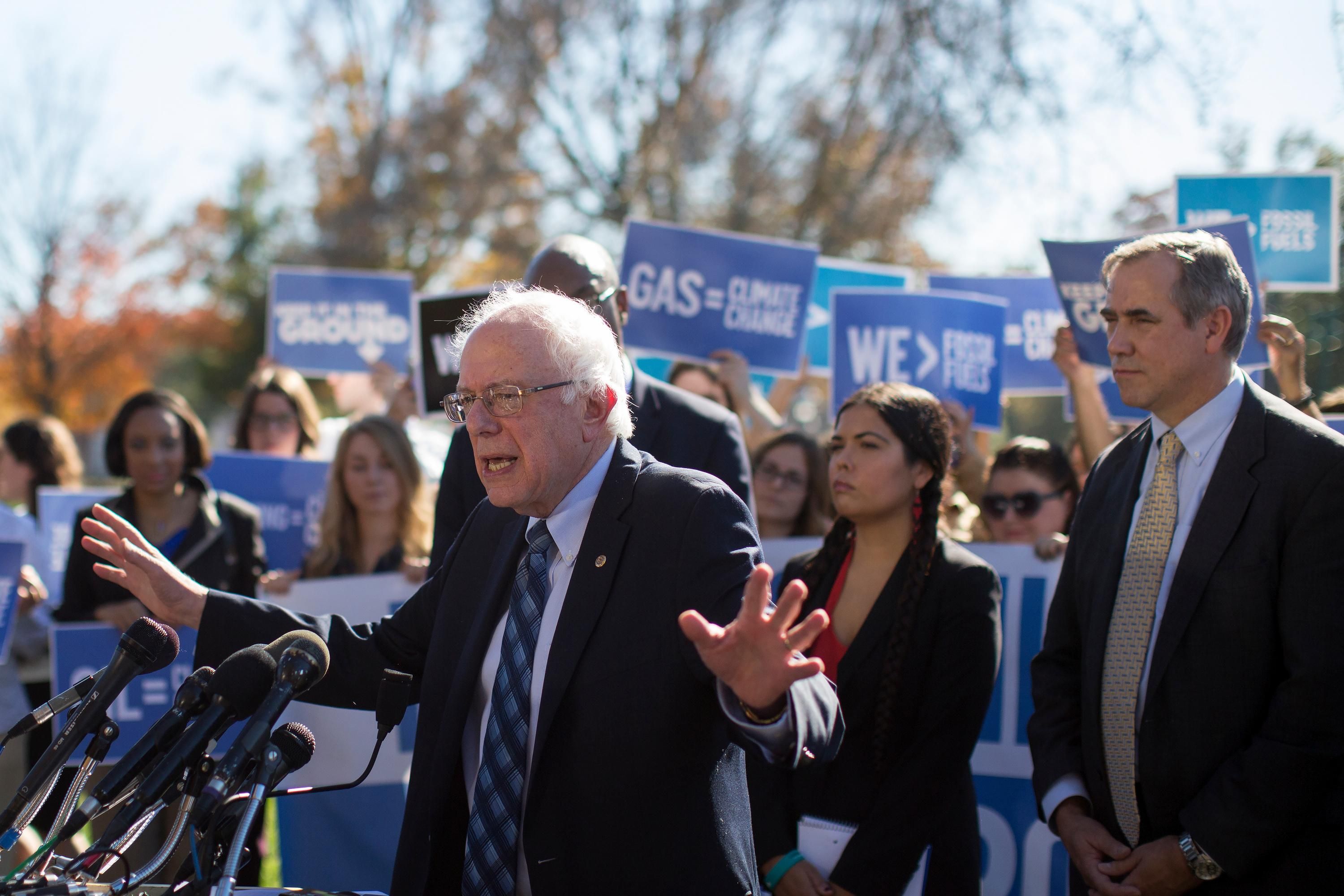 Sens. Bernie Sanders (I-Vt.) and Jeff Merkley (D-Ore.) announced the Keep Fossil Fuels in the Ground Act at a news conference on Capitol Hill on November 4, 2015. (Photo: Al Drago/CQ Roll Call)
"Aggressively use your executive powers to address the climate crisis, create good-paying union jobs in the United States, and liberate hard-working American families from volatile energy prices."
JESSICA CORBETT July 20, 2022 (CommonDreams.org)
Just before U.S. President Joe Biden's speech at a shuttered coal plant, nine U.S. senators on Wednesday demanded that he stop weighing his options and urgently declare a climate emergency.
"Declare this crisis the national emergency that it is."
The call was led by Sens. Jeff Merkley (D-Ore.) and Bernie Sanders (I-Vt.) along with Cory Booker (D-N.J.), Martin Heinrich (D-N.M.), Ed Markey (D-Mass.), Alex Padilla (D-Calif.), Brian Schatz (D-Hawaii), Elizabeth Warren (D-Mass.), and Sheldon Whitehouse (D-R.I.).
Their letter to Biden came after the White House confirmed Tuesday that an emergency declaration would not be included in the climate actions announced in his Wednesday address—leading one campaigner to charge that "in the midst of shocking and unprecedented heatwaves, wildfires, and drought in America, Europe, and across the globe, President Biden has failed to meaningfully act on climate."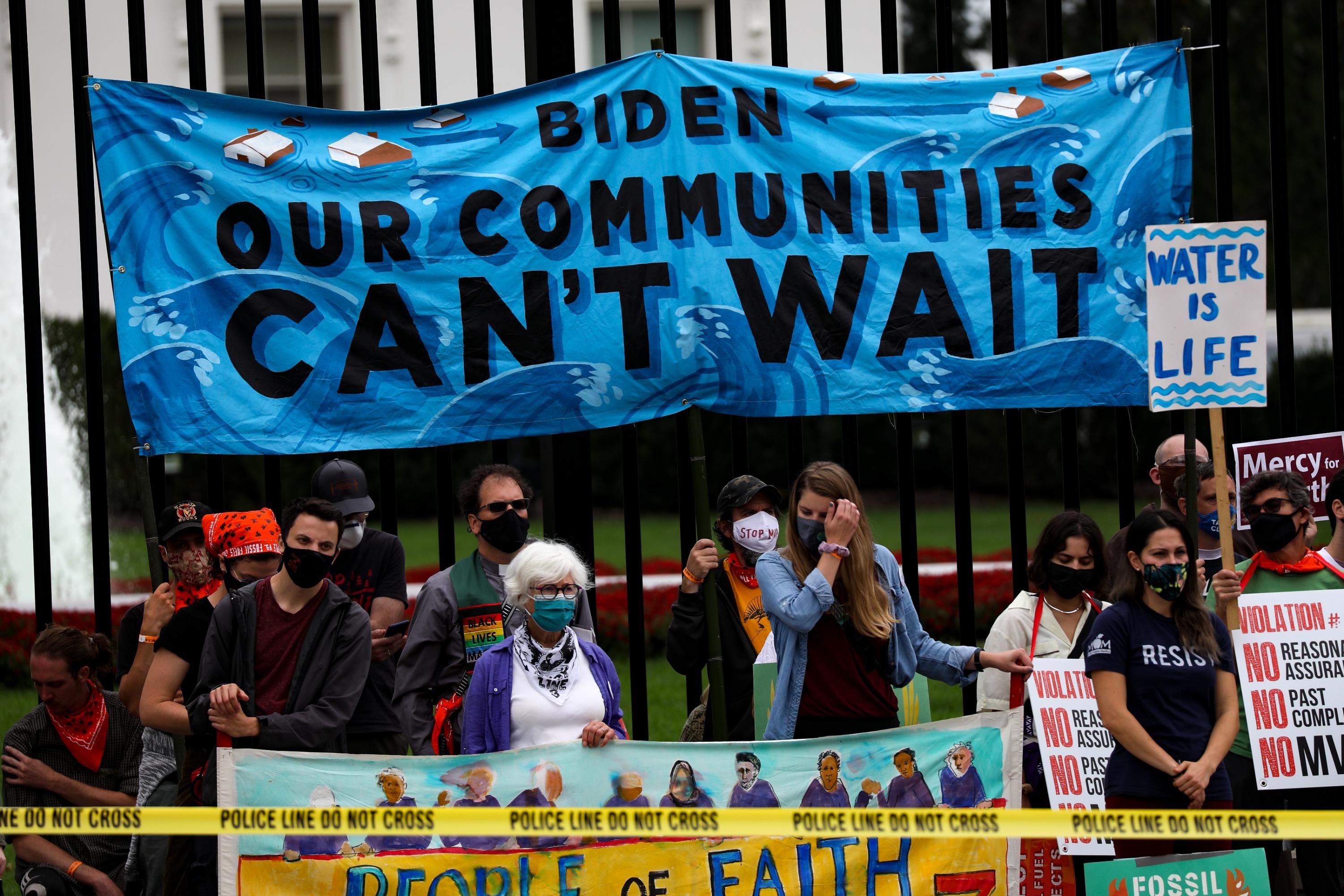 The senators wrote that "while we will continue to fight for whatever climate and clean energy proposals can pass in a divided Senate, congressional action to address the climate crisis appears to have stalled."
"As a result, we urge you to put us on an emergency footing and aggressively use your executive powers to address the climate crisis, create good-paying union jobs in the United States, and liberate hard-working American families from volatile energy prices," they continued.
https://platform.twitter.com/embed/Tweet.html?dnt=false&embedId=twitter-widget-0&features=eyJ0ZndfdHdlZXRfZWRpdF9iYWNrZW5kIjp7ImJ1Y2tldCI6Im9mZiIsInZlcnNpb24iOm51bGx9LCJ0ZndfcmVmc3JjX3Nlc3Npb24iOnsiYnVja2V0Ijoib2ZmIiwidmVyc2lvbiI6bnVsbH0sInRmd190d2VldF9yZXN1bHRfbWlncmF0aW9uXzEzOTc5Ijp7ImJ1Y2tldCI6InR3ZWV0X3Jlc3VsdCIsInZlcnNpb24iOm51bGx9LCJ0Zndfc2Vuc2l0aXZlX21lZGlhX2ludGVyc3RpdGlhbF8xMzk2MyI6eyJidWNrZXQiOiJpbnRlcnN0aXRpYWwiLCJ2ZXJzaW9uIjpudWxsfSwidGZ3X2V4cGVyaW1lbnRzX2Nvb2tpZV9leHBpcmF0aW9uIjp7ImJ1Y2tldCI6MTIwOTYwMCwidmVyc2lvbiI6bnVsbH0sInRmd19kdXBsaWNhdGVfc2NyaWJlc190b19zZXR0aW5ncyI6eyJidWNrZXQiOiJvZmYiLCJ2ZXJzaW9uIjpudWxsfSwidGZ3X3VzZXJfZm9sbG93X2ludGVudF8xNDQwNiI6eyJidWNrZXQiOiJmb2xsb3ciLCJ2ZXJzaW9uIjpudWxsfSwidGZ3X3R3ZWV0X2VkaXRfZnJvbnRlbmQiOnsiYnVja2V0Ijoib2ZmIiwidmVyc2lvbiI6bnVsbH19&frame=false&hideCard=false&hideThread=false&id=1549814747733938182&lang=en&origin=https%3A%2F%2Fwww.commondreams.org%2Fnews%2F2022%2F07%2F20%2Fnine-senators-urge-biden-act-boldly-and-declare-climate-emergency&sessionId=c5603f57bc2a10eb346571086074920f66bc8689&siteScreenName=commondreams&siteUserId=14296273&theme=light&widgetsVersion=6da0b7085cc99%3A1658260301864&width=550px
"We ask that you start by declaring a climate emergency to unlock the broad powers of the National Emergency Act (NEA)," the senators added, "and immediately pursue an array of regulatory and administrative actions to slash emissions, protect public health, support national and energy security, and improve our air and water quality."
Advocates on and off Capitol Hill have long highlighted how—as a February report detailed—Biden could use his emergency powers to restrict fossil fuel drilling and exports; limit investment in the sector; boost U.S. manufacturing for clean power and transportation; and "build resilient and distributed renewable energy systems in climate-vulnerable communities."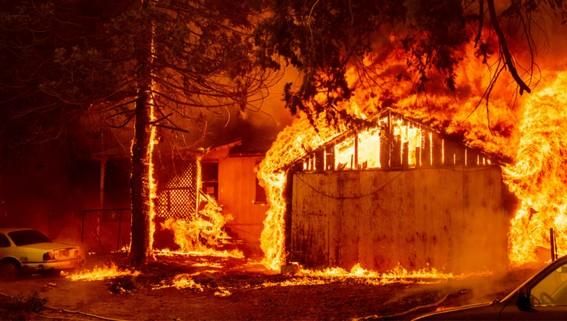 Noting that potential, the senators' letter emphasizes that "we do not urge you to declare a national emergency lightly," and while "a president's emergency powers should not be used wantonly," humanity can't afford "to shy away from tackling the climate crisis."
The letter also calls for specific actions by the U.S. Environmental Protection Agency, Office of Management and Budget, and departments of Defense, Energy, Justice, and Transportation.
"The climate crisis is one of the biggest emergencies that our country has ever faced and time is running out. We cannot allow a single senator to stall our progress," the document adds in an apparent swipe at Sen. Joe Manchin (D-W.Va.), a key barrier to his own party's agenda.
"Addressing this crisis head-on, with the full authorities you possess, is a win for the environment, public health, the planet, American workers, American consumers, and our national security interests," the letter concludes. "We urge you to act boldly, declare this crisis the national emergency that it is, and embark upon bold regulatory and administrative action."