March 16, 2023 Updated: March 17, 2023 6:05 p.m. (SFChronicle.com)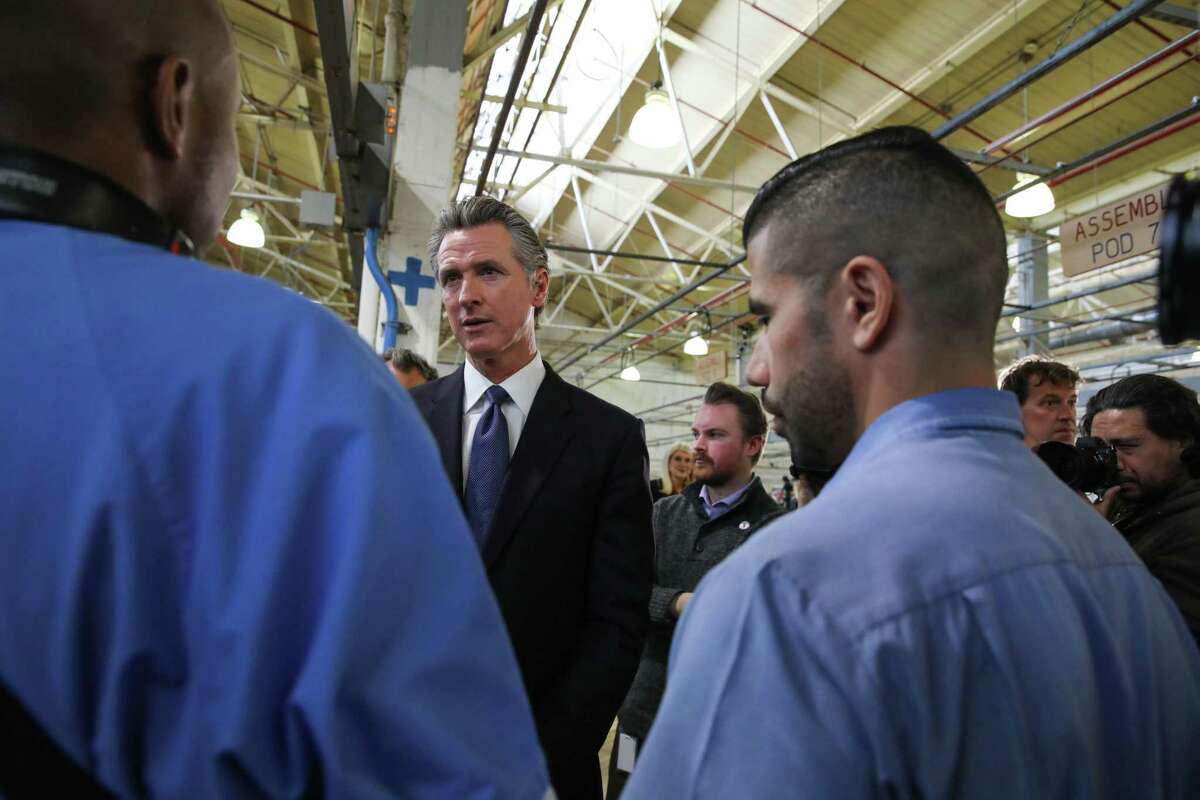 As the oldest correctional facility in the state, San Quentin State Prison has long had an outsize place in the way Californians and their leaders think about justice issues. The facility is home to the nation's largest Death Row and has housed some of the state's most well-known prisoners like Charles Manson.
So it's little surprise that Gov. Gavin Newsom has chosen the prison as a symbolic backdrop for perhaps the most sweeping progressive criminal-justice reform proposal of his administration.
Newsom visited the prison Friday to announce his plan to transform San Quentin from a maximum-security prison into a rehabilitation and education facility that will focus on preparing inmates for their transition back into civilian life. But few details about what the transition will entail have been released.
"California is transforming San Quentin – the state's most notorious prison with a dark past – into the nation's most innovative rehabilitation facility focused on building a brighter and safer future," Newsom said in a statement.
As part of the move, any remaining Death Row inmates would be transferred to other prisons in the state. There are 668 people on death row, though the state has not executed anyone since 2006, 13 years before Newsom announced a moratorium in 2019.
The new San Quentin facility in the North Bay will be renamed San Quentin Rehabilitation Center, a "one-of-a-kind correctional institution" that will be modeled on facilities in Norway and other Scandinavian countries, where the focus is less about punitive measures and life inside prison more closely resembles life on the outside. For example, inmates focus on job training and handle many day-to-day tasks, such as cooking and laundry, for themselves.
Newsom noted a study from Coastal Carolina University that found three out of four formerly incarcerated people in Norway don't reoffend following the move to the restorative justice approach. In California, nearly 45% of former offenders are reconvicted within three years after their release, according to data from the California Department of Corrections and Rehabilitation.
The Democratic governor said San Quentin would be the largest facility of its kind in the nation. His budget proposal released in January includes $20 million to begin repurposing the facility to house educational and training programs.
State legislators must approve funding for the effort, but Newsom's administration is moving forward with a plan to shut down the death row housing unit and move those housed there to other prisons with their sentences unchanged.
Newsom's announcement has drawn mixed reviews from some Republican legislators and others who say they are wary that the state's direction hasn't lowered crime rates.
Assembly Member Joe Patterson, R-Rocklin (Placer County), said he wants to know how Newson's administration will determine which inmates are housed in the new facility. He said he can't help but be wary after the state has released numerous offenders early without being more transparent about its credit system for determining such releases.
"There's a lot of skepticism about how they're going to do it," Pattersons said. "There are so many questions. It's hard to know what this is going to look like."
More for you
Meanwhile, some progressive justice reform advocates have cheered the governor's move. They said the "tough on crime" approach that gained popularity in the 1990s has proven ineffective in preventing people from reoffending.
"Punishment alone fails to address the root causes of crime, and the legal barriers created by our current justice system have compounded the conditions that create crime in our communities," said Tinisch Hollins, executive director of Californians for Safety and Justice. "We commend Gov. Newsom for his bold alternative vision that elevates the urgency to make corrective rehabilitation real in California."
The transition to move San Quentin away from being a maximum security facility has already been underway in practice. Last year, the governor ordered the death chamber at San Quentin to be dismantled and began transferring Death Row prisoners to other maximum-security prisons.
That move comes after Newsom issued an executive order in March 2019, his third month in office, suspending executions in California. He said the death penalty "is inconsistent with our bedrock values and strikes at the very heart of what it means to be a Californian."
In 2020 he filed a brief with the state Supreme Court in a capital case – the first California governor to do so – saying the state's death penalty law was applied in a racist manner against African Americans and urging the court, unsuccessfully, to impose stricter standards for juries to reach death verdicts.
The state's Committee on Revision of the Penal Code, four of whose six members were appointed by Newsom, issued a report in December 2021 saying capital punishment in California was "beyond repair" and should be repealed. Initiatives to abolish the death penalty were narrowly rejected by the state's voters in 2012 and 2016.
But Newsom has not acted to commute the sentences of any of the state's 668 condemned inmates to life in prison. Under an 1879 provision of the state Constitution, he would need approval from at least four of the state Supreme Court's seven justices to grant clemency to most of those inmates, because they have at least one felony conviction in another case. He could commute the others on his own.
Newsom's office has said only that he is considering commutations. If he takes no action before leaving office, the inmates could again face execution under his successor.
Reach Dustin Gardiner: dustin.gardiner@sfchronicle.com; Twitter: @dustingardiner
Reach Bob Egelko: begelko@sfchronicle.com
Written By Dustin Gardiner
Dustin Gardiner is a state Capitol reporter for The San Francisco Chronicle. He joined The Chronicle in 2019, after nearly a decade with The Arizona Republic, where he covered state and city politics. Dustin won several awards for his reporting in Arizona, including the 2019 John Kolbe Politics Reporting award, and the 2017 Story of the Year award from the Arizona Newspapers Association. Outside of work, he enjoys hiking, camping, reading fiction and playing Settlers of Catan. He's a member of NLGJA, the association of LGBTQ journalists.
Written By Bob Egelko
Bob Egelko has been a reporter since June 1970. He spent 30 years with the Associated Press, covering news, politics and occasionally sports in Los Angeles, San Diego and Sacramento, and legal affairs in San Francisco from 1984 onward. He worked for the San Francisco Examiner for five months in 2000, then joined The Chronicle in November 2000.
His beat includes state and federal courts in California, the Supreme Court and the State Bar. He has a law degree from McGeorge School of Law in Sacramento and is a member of the bar. Coverage has included the passage of Proposition 13 in 1978, the appointment of Rose Bird to the state Supreme Court and her removal by the voters, the death penalty in California and the battles over gay rights and same-sex marriage.
©2023 Hearst Communications, Inc.