Opinion
By Kate Robinson | Special to The Examiner
Mar 30, 2023 Updated 22 hrs ago (SFExaminer.com)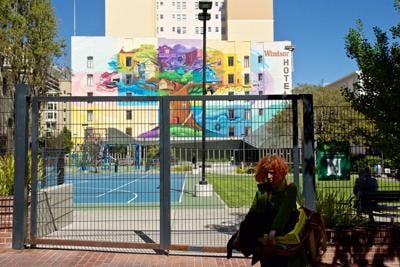 For too long, public discourse about the Tenderloin has portrayed our community in overly simplistic terms: the epicenter of all San Francisco's ills. Sure there is much more work to be done, but the Tenderloin that I know is on the upswing, and we must not let these negative narratives define this neighborhood.
The Tenderloin that I know is a celebration of diversity, a mosaic of races, ethnicities, gender identities, religions and experiences. We make waves, nationally and internationally, as a historical beacon for arts, architecture, activism and culture. The Tenderloin buttresses San Francisco's worldwide welcome mat, U.N. Plaza and the Powell BART station, and supports The City's downtown economic core. We boast boutiques, galleries, museums and nightlife — theaters, bars, hotels. The neighborhood is a center for education and hub for policy making. It forms the foundation of our city's social services, supporting San Francisco's most vulnerable residents. The Tenderloin that I know not only creates culture and counterculture, it symbolizes the soul of our city and its continued success must be prioritized.
The Tenderloin is the most densely populated neighborhood in San Francisco, with the highest concentration of families and seniors. It is home to nearly 35,000 people sharing 40 tightly knit blocks. As one of the last footholds for affordable housing, the Tenderloin often presents the only viable option for many working families, immigrants and refugees, seniors living on fixed incomes, people with disabilities and low-income adults. The median household income in the Tenderloin is $32,000 annually, with 51% of residents living below the federal poverty line. Unemployment is 10 times the national average and the streets of the Tenderloin are home to 49% of San Francisco's unhoused residents. The Tenderloin embodies our city's shared values and hypocrisies all in one place, hopeful and imperfect.
The last few years brought a reckoning where this community bore the brunt of long-standing issues exacerbated by the COVID-19 pandemic: a culmination of rising costs, income inequality and San Francisco's opioid epidemic. But, with this public health crisis and the persistent public safety challenges that came with it, we also mounted a masterful response with Tenderloin stakeholders working together across sectors to correct course, address street-level realities, and shape a vision for collective action. We saw immediate community needs met with unquestioning commitment from nonprofits, government agencies, and everyday people stepping up together. We must institutionalize this rapid innovating that we saw in collaborative pandemic approaches so that we can continue to solve local issues long term.
Where many see this neighborhood as a "containment zone" for our city's issues, the Tenderloin that I know contains a strong and beautiful community. The people that our organization, the Tenderloin Community Benefit District, serves and works alongside every day possess an extraordinary will to face adversity with dignity and ingenuity. Neighbors in this community are cohesive, and for all of our seemingly intractable problems, we progress. The Tenderloin is framed as a place in need, but I know that San Francisco needs the Tenderloin. We not only have a moral imperative as a city to get it right on behalf of this community, but everyone else citywide will prosper if we can reframe public perception. As the quintessentially San Franciscan humorist and all-around chronicler of our city's daily complexities, Herb Caen, once famously put it, "Any city that doesn't have a Tenderloin isn't a city at all."
The Tenderloin is a microcosm for what's special about San Francisco. It is an abundant neighborhood where 112 different languages are spoken harmoniously and 69% of residents are people of color. Many might not know that San Francisco has a burgeoning Yemeni community rooted right here in the Tenderloin — growing and contributing to our city tapestry. Our neighborhood, a vital landing pad for immigrants, helps people find their footing and give back to their new home. Two of our TLCBD staff members —both medical doctors, mom a Russian immigrant and Tenderloin Safe Passage Program manager, dad originally from Yemen and a park captain — have lived in the neighborhood for years with their family. They recently helped resettle a family displaced by the war in Ukraine, assisting them with housing, enrolling their kids in school, and becoming Safe Passage "Corner Captains," too.
When Safe Passage first started, it was organized by several local moms and neighborhood youth who rallied and developed the program. They painted a literal yellow brick road on the sidewalk and across streets for young people to follow with volunteer escorts. Some of these moms became the now TLCBD Safe Passage program's first Corner Captains who to this day keep kids and seniors safe as they traverse their neighborhood. They aim to build a culture of safety for everyone. These brief, yet not uncommon, stories show the Tenderloin's value and power. Hairdressers, store owners, techies, teachers, artists, restaurateurs, public servants, parents, students — these are the residents I got to know when I started working here even before I was ever aware of the larger pervasive narrative about the Tenderloin. I feel blessed to know these people intimately and work at an organization that goes beyond baseline critical services to improve quality of life, connect City partners, and channel community energy into action.
The success of the Tenderloin means the success of San Francisco. The gains we made to address the public health emergency must be cemented permanently with adequate and sustainable resources equitably invested going forward. For many of our residents, the sidewalk is their living room and everyone who lives here deserves the fundamental right to not just survive, but thrive in a welcoming and healthy, clean and safe environment. This community has demonstrated the capacity to make lasting positive change through public realm improvements, supporting merchants, and providing safe routes to schools — but we need more. We need to double down on investments and continue to make measurable strides on the twin public health and safety crises of drug addiction and drug dealing on our streets.
In the months ahead, we will be rolling out a series of pride-filled community-driven promotions about the promise of the Tenderloin, starting with the new visittenderloin.com, showing the hidden gems of the neighborhood and why the spirit of San Francisco starts here. We invite all citywide neighbors to visit the Tenderloin and do it intentionally. Experience the change we see firsthand and confront misconceptions along the way. Shop in stores, experience cultures, revel in history. We believe in transformation through activation — participate in people-led acts of resistance, visible joy and justice by coming to the neighborhood in person and helping us physically hold a safe and inviting space. We also implore everyone regardless of where they live to start following our Twitter (@TLCBD) and Instagram (@tlcbd) accounts where we are highlighting the personalities and places that make the Tenderloin so dynamic. Don't be afraid and don't pity or avoid us. Perhaps even follow the example of where we have been successful and come see what we have to offer.
Kate Robinson is the executive director of the Tenderloin Community Benefit District, a public-private partnership providing quality of life services to Tenderloin residents in San Francisco.