San Quentin prison cracks down after Newsom revamp plans, insiders say
May 24, 2023 Updated 16 hrs ago (SFExaminer.com)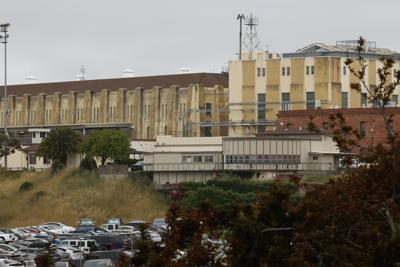 In the past week, people incarcerated at San Quentin haven't left their cells for anything but twice-daily meals, occasional doctor's appointments and shared showers every other day.
Those incarcerated at California's oldest and most notorious state prison, and their advocates, say San Quentin has been locked down since May 16 in response to Gov. Gavin Newsom's announced intention to transform it into a rehabilitative center. California corrections officials told The Examiner that the prison was not locked down, but was operating under a "modified program" as part of an annual search.
This change has followed a paring down of the prison's offering of rehabilitative programs, currently and formerly incarcerated people said, as well as escalating harassment and abuse from correctional officers at the facility.
The alleged lockdown and mistreatment stand in stark contrast to the state's emphasis upon rehabilitation and restorative justice and comes as the governor is championing the prison's proposed transformation into what he hopes will serve as a model for the rest of the U.S., which has the highest incarceration rates in the world.
San Quentin State Prison, located about 20 miles outside of San Francisco in Marin County, houses about 3,300 incarcerated people on the water's edge. It's still home to more than 500 condemned prisoners, who will be moved into general prison populations elsewhere following Newsom's order to dismantle the country's largest death row by 2024.
The California Department of Correction and Rehabilitation told The Examiner that Newsom's administration has "created an ambitious timeline and vision to transform San Quentin."
The plan has engendered skepticism from lawmakers and the state Legislative Analyst's Office. Both have said the $380 million plan is light on specifics regarding how the money will be spent and what a rehabilitation center would actually entail.
But people currently and formerly incarcerated at San Quentin say the strongest resistance is coming from the inside — specifically, from the prison's acting warden and its correctional officers.
State prison officials and people incarcerated at San Quentin agree that cell searches began on May 16. That's where the agreement ends.
One currently incarcerated person, who asked not to be named for fear of retaliation, and another formerly incarcerated person called it a lockdown. Two members of Newsom's San Quentin Transformation Advisory Council and Norwegian prison officials were scheduled to visit the prison that day, the person incarcerated there said.
As part of the alleged lockdown, the person said they're released for breakfast, dinner and — just three times a week — for showers. Otherwise, they can only leave for doctors' visits, and their cells are routinely searched. Their only contact with the outside are prison-provided
internet-enabled tablets, which the person told The Examiner made them "feel safer to know that they're here."
The person said that unlike previous lockdowns, prison staff has provided no explanation as to what triggered it. Corrections officers started searching prison cells this month, and the incarcerated person told The Examiner that this amplified the belief among San Quentin's population that "there's certain factions within the prison trying to stop the progress (of Newsom's announcement) from happening."
"Honestly, it's defeating and depressing," the person said. "It feels like you're being trapped and punished, and although that's prison, that's the job of the prison, I think this is an extra layer where they're reminding you about this instead of trying to help you heal so that you can heal once you get out."
A state corrections spokesperson told The Examiner there was no such tour scheduled for May 16 and said there is a modified program in place that "can still allow the population to shower, work and receive medication."
"This action was not a lockdown, which restricts any and all movement in an identified area, facility, or entire prison," the spokesperson said in an email.
San Quentin's public information officer couldn't be reached for comment prior to publication. The California Correctional Peace Officers Association didn't respond to a detailed list of questions.
San Quentin's restrictions have effectively ended all rehabilitative programming, the incarcerated person said, potentially violating state law. The prison was well-known for its programs prior to the COVID-19 pandemic, which currently and formerly incarcerated people told The Examiner led to significant reductions in those offerings over the last three years.
Restoring Our Original True Selves — a weekly class known as ROOTS that aims to teach Asian American and Pacific Islander history through an ethnic studies curriculum — hasn't resumed. Kid C.A.T, a rehabilitative program for people who have been incarcerated since they were children, is only just ramping back up.
EX // TOP STORIES
San Francisco Mayor London Breed's regular meeting with the Board of Supervisors was anything but
Now, with the alleged lockdown, the few remaining programs have been taken off the table, despite Newsom signing into law a bill that would prevent that in 2021. Under the law, prisons are supposed to offer "programming to the greatest extent possible, even if the institution, facility or section of the institution or facility is restricting in-person programming for reasons including, but not limited to, a security or medical concern."
Despite the bill's provisions for virtual programming, the prison population's tablets don't "facilitate any form of continuation" of their classes and programs, according to a currently incarcerated person.
"There's no one watching the watcher," the incarcerated person said.
After Newsom commuted his sentence last January, Thanh Tran was released from San Quentin last May. He had seen the reduction in programming firsthand, estimating that San Quentin had as many as 80 programs before the pandemic. Now, there are about 25.
The currently incarcerated person told The Examiner that some programs have waitlists that are hundreds of people long, and others that were offered before the pandemic have faced extensive bureaucratic hurdles trying to restart them.
Before his release, Tran said correctional officers would routinely harass and search incarcerated people — including himself — who were trying to move to different parts of the prison, whether to work at their jobs, or attend a class or program. Showing up late could result in discipline, and consequences at a parole hearing down the line.
Tran's friends who remain at San Quentin told him it had only gotten worse after the governor's announcement. The currently incarcerated person who spoke with The Examiner said they'd witnessed as many as three correctional officers at a time harassing and searching people prior to the lockdown.
"The amount of people they pull over now and search randomly has increased," Tran said. "It's basically stop-and-frisk within prison, so now it has increased, and now people are being denied even more access to the now very limited programs at San Quentin."
The programming and security changes have all occurred since acting Warden Oak Smith joined San Quentin's leadership.
Smith, who began serving as the prison's chief deputy warden in 2021, was appointed to his new role in February. Ron Broomfield, his predecessor, is now the corrections department's acting associate director of general population male prisons, but Newsom's office still referred to Broomfield as the warden when listing him as a co-chair of the advisory council.
Despite water restrictions lifting in other parts of the state with this year's wet winter, those at San Quentin are still in place. The incarcerated person said Smith has maintained San Quentin's restrictions on showers, which former Warden Ron Davis first instituted in 2015 as part of then-Gov. Jerry Brown's drought declaration. Incarcerated people attending school or working a job that isn't approved by the corrections department were limited to three, five-minute showers per week before movement was restricted within the prison.
It's unclear when the restrictions will end. The prison appeared to lift some last week when it hosted a pickleball event. Smith and Bloomfield participated, as did some of the people currently incarcerated and correctional officers working at San Quentin.
Prison officials said in a blog post that they held the event with San Quentin's shift to a rehabilitation center in mind, adding that it was "setting the foundation" for California's plans.
"We want the prison environment to reflect the environment of the outside as much as possible," Smith said.
But the currently incarcerated person who spoke with The Examiner said that hasn't been reflected in the prison's actions, before and during the restrictions.
The person said San Quentin's incarcerated population is ready and willing to make the prison's shift to a rehabilitative model work, but they're not sure the same can be said for prison's leadership and correctional officers.
"They just feel that it's not going to work based on the fact the COs have been trained one way, and they think one way," the person, who is next eligible for parole in 2026, told The Examiner.
"And we think the only way that this would actually work is if they just moved these COs that work here to another prison, and bring in a whole set of new people that are fully trained with the model and the thinking that they want. We're nervous that they are going to accept all the money that is thrown at them but then, at the end of the day, they're just gonna use their own little manipulative tactics to get people out of here. That's the biggest thing we're worried about."

Marcus White is a senior digital writer and producer for the San Francisco Examiner.